Do you want to learn more about what the Bible says about love and compassion? The following list of inspirational Bible quotes about love will show you what God said in the Bible about the greatest power on earth. And if you can't get enough of good quotes, be sure to have a look at our selection of powerful God quotes.
Love is the greatest virtue of them all. The importance of love is so great that even Paul the apostle highlighted its role in his letter to the Corinthian church. Love helps us to overcome hatred, resentment, and anger. Love allows us to stretch out our hands to put an end to violence and ignorance that lasted for years or even centuries.
"Darkness cannot drive out darkness: only light can do that. Hate cannot drive out hate: only love can do that."
Martin Luther King Jr.
Our bodies may perish but love is immortal. Long after everything has passed away, God's love will continue to be the redemptive grace that manifests itself throughout eternity. From the Bible, we know that God's love will never cease to exist. Alongside with faith and hope, love is part of the Trinity of Christian graces. At the same time, Paul wrote that love is the greatest of these three.
But the question is, why exactly is love the greatest among them? The reason for this is simple: love endures. While faith helps us to focus on Christ, hope helps to maintain our faith. However, once we find ourselves in heaven, faith and hope have fulfilled their purpose. When you are in God's presence, you no longer need to believe because you can see it with your own eyes. The same holds true for hope. This is the reason why love will remain throughout eternity.
107 Beautiful Bible Quotes about Love
Love is what can be described as the essence of God and his character. It is love that motivates God's actions and it is love that sent mankind a savior in the form of Jesus. To help you learn more about God's love and mercy, have a look at the following Bible quotes about love. These are some of the most important Bible verses in which the subject matter of love is addressed in all its unique forms of expression. Enjoy reading!
Here's our list of beautiful Bible quotes about love
1.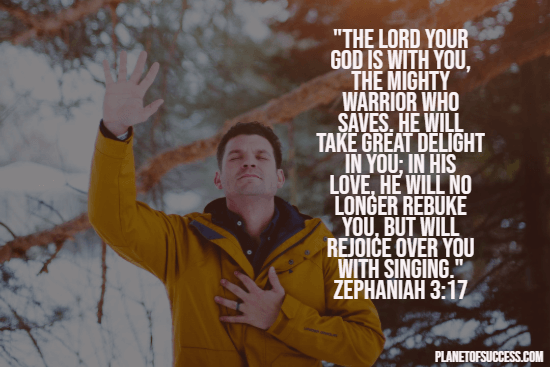 "The Lord your God is with you, the Mighty Warrior who saves. He will take great delight in you; in his love, he will no longer rebuke you, but will rejoice over you with singing."
Zephaniah 3:17
2.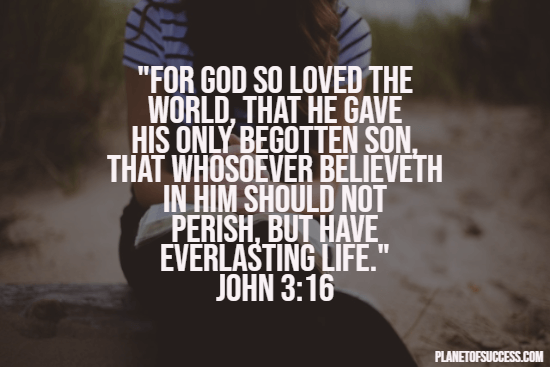 "For God so loved the world, that he gave his only begotten Son, that whosoever believeth in him should not perish, but have everlasting life."
John 3:16
3.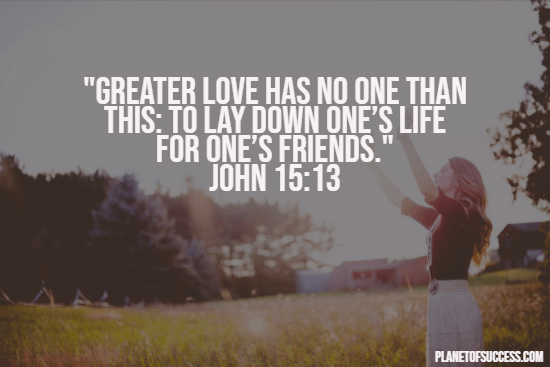 "Greater love has no one than this: to lay down one's life for one's friends."
John 15:13
4.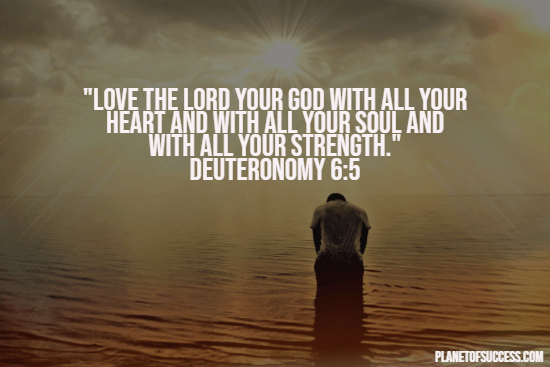 "Love the Lord your God with all your heart and with all your soul and with all your strength."
Deuteronomy 6:5
5.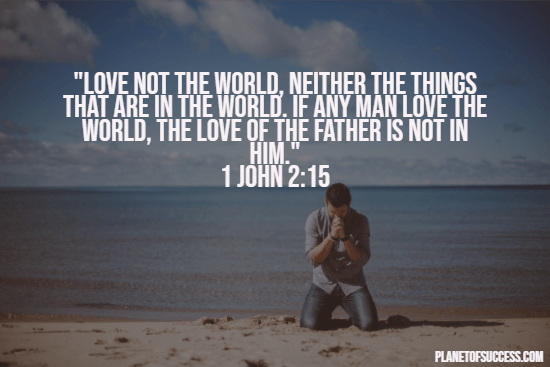 "Love not the world, neither the things that are in the world. If any man love the world, the love of the Father is not in him."
1 John 2:15
6.
"Through love and faithfulness sin is atoned for; through the fear of the Lord evil is avoided."
Proverbs 16:6
7.
"God demonstrates his own love for us in this: While we were still sinners, Christ died for us."
Romans 5:8
8.
"Give thanks to the Lord, for he is good; his love endures forever."
1 Chronicles 16:34
9.
"But I tell you, love your enemies and pray for those who persecute you."
Matthew 5:44
10.
"The reason my Father loves me is that I lay down my life – only to take it up again."
John 10:17
Can't get enough of Bible quotes about love? Read on
11.
"Do not seek revenge or bear a grudge against anyone among your people, but love your neighbor as yourself. I am the Lord."
Leviticus 19:18
12.
"The Lord your God is testing you to find out whether you love him with all your heart and with all your soul."
Deuteronomy 13:3
13.
"'Though the mountains be shaken and the hills be removed, yet my unfailing love for you will not be shaken nor my covenant of peace be removed,' says the Lord, who has compassion on you."
Isaiah 54:10
14.
"Your love, Lord, reaches to the heavens, your faithfulness to the skies."
Psalm 36:5
15.
"And he passed in front of Moses, proclaiming, "The Lord, the Lord, the compassionate and gracious God, slow to anger, abounding in love and faithfulness."
Exodus 34:6
16.
"In your unfailing love you will lead the people you have redeemed. In your strength, you will guide them to your holy dwelling."
Exodus 15:13
17.
"To love him with all your heart, with all your understanding and with all your strength, and to love your neighbor as yourself is more important than all burnt offerings and sacrifices."
Mark 12:33
18.
"He defends the cause of the fatherless and the widow, and loves the foreigner residing among you, giving them food and clothing."
Deuteronomy 10:18
19.
"May the Lord make your love increase and overflow for each other and for everyone else, just as ours does for you."
1 Thessalonians 3:12
20.
"Because the Lord disciplines the one he loves, and he chastens everyone he accepts as his son."
Hebrews 12:6
21.
"Anyone who loves their life will lose it, while anyone who hates their life in this world will keep it for eternal life."
John 12:25
22.
"But love your enemies, do good to them, and lend to them without expecting to get anything back. Then your reward will be great, and you will be children of the Most High, because he is kind to the ungrateful and wicked."
Luke 6:35
23.
"And hope does not put us to shame, because God's love has been poured out into our hearts through the Holy Spirit, who has been given to us."
Romans 5:5
24.
"So Jacob served seven years to get Rachel, but they seemed like only a few days to him because of his love for her."
Genesis 29:20
25.
"The foreigner residing among you must be treated as your native-born. Love them as yourself, for you were foreigners in Egypt. I am the Lord your God."
Leviticus 19:34
Bible quotes about love like this are wonderful
26.
"Love must be sincere. Hate what is evil; cling to what is good."
Romans 12:9
27.
"For the love of money is a root of all kinds of evil. Some people, eager for money, have wandered from the faith and pierced themselves with many griefs."
1 Timothy 6:10
28.
"A new command I give you: Love one another. As I have loved you, so you must love one another."
John 13:34
29.
"Love worketh no ill to his neighbour: therefore love is the fulfilling of the law."
Romans 13:10
30.
"If ye love me, keep my commandments."
John 14:15
31.
"Beloved, let us love one another: for love is of God; and every one that loveth is born of God, and knoweth God."
1 John 4:7
32.
"These things I command you, that ye love one another."
John 15:17
33.
"Keep your lives free from the love of money and be content with what you have, because God has said, 'Never will I leave you; never will I forsake you.'"
Hebrews 13:5
34.
"For whoever loves others has fulfilled the law."
Romans 13:8
35.
"For if ye love them which love you, what thank have ye? for sinners also love those that love them."
Luke 6:32
36.
"Do not remember the sins of my youth and my rebellious ways; according to your love remember me, for you, Lord, are good."
Psalm 25:7
37.
"Jesus knew that the hour had come for him to leave this world and go to the Father. Having loved his own who were in the world, he loved them to the end."
John 13:1
38.
"But God commendeth his love toward us, in that, while we were yet sinners, Christ died for us."
Romans 5:8
39.
"There is no fear in love; but perfect love casteth out fear: because fear hath torment. He that feareth is not made perfect in love."
1 John 4:18
40.
"Know therefore that the Lord your God is God; he is the faithful God, keeping his covenant of love to a thousand generations of those who love him and keep his commandments."
Deuteronomy 7:9
These Bible quotes about love are filled with wisdom
41.
"You have loved righteousness and hated wickedness; therefore God, your God, has set you above your companions by anointing you with the oil of joy."
Hebrews 1:9
42.
"In love, a throne will be established; in faithfulness, a man will sit on it – one from the house of David – one who in judging seeks justice and speeds the cause of righteousness."
Isaiah 16:5
43.
"By this everyone will know that you are my disciples, if you love one another."
John 13:35
44.
"If you love those who love you, what reward will you get? Are not even the tax collectors doing that?"
Matthew 5:46
45.
"He that loveth not knoweth not God; for God is love."
1 John 4:8
46.
"No one can serve two masters. Either you will hate the one and love the other, or you will be devoted to the one and despise the other. You cannot serve both God and money."
Luke 16:13
47.
"Love does no harm to a neighbor. Therefore love is the fulfillment of the law."
Romans 13:10
48.
"Lord, the God of Israel, there is no God like you in heaven above or on earth below – you who keep your covenant of love with your servants who continue wholeheartedly in your way."
1 Kings 8:23
49.
"If I have a faith that can move mountains, but do not have love, I am nothing. If I give all I possess to the poor and give over my body to hardship that I may boast, but do not have love, I gain nothing."
1 Corinthians 13
50.
"I, the Lord your God, am a jealous God, punishing the children for the sin of the parents to the third and fourth generation of those who hate me, 6 but showing love to a thousand generations of those who love me and keep my commandments."
Exodus 20:5-7
51.
"Whoever has my commands and keeps them is the one who loves me. The one who loves me will be loved by my Father, and I too will love them and show myself to them."
John 14:21
52.
"But let all who take refuge in you be glad; let them ever sing for joy. Spread your protection over them, that those who love your name may rejoice in you."
Psalm 5:11
53.
"In this was manifested the love of God toward us, because that God sent his only begotten Son into the world, that we might live through him."
1 John 4:9
54.
"The eyes of the Lord are on those who fear him, on those whose hope is in his unfailing love."
Psalm 33:18
55.
"The Father loves the Son and has placed everything in his hands."
John 3:35
56.
"This is how you can show your love to me: Everywhere we go, say of me, 'He is my brother.'"
Genesis 20:13
57.
"And when you pray, do not be like the hypocrites, for they love to pray standing in the synagogues and on the street corners to be seen by others. Truly I tell you, they have received their reward in full."
Matthew 6:5
58.
"I will love thee, O Lord, my strength."
Psalms 18:1
59.
"Nor height, nor depth, nor any other creature, shall be able to separate us from the love of God, which is in Christ Jesus our Lord."
Romans 8:39
60.
"For the king trusts in the Lord; through the unfailing love of the Most High he will not be shaken."
Psalm 21:7
61.
"In accordance with your great love, forgive the sin of these people, just as you have pardoned them from the time they left Egypt until now."
Numbers 14:19
62.
"For the Lord is righteous, he loves justice; the upright will see his face."
Psalm 11:7
63.
"Anyone who does not love me will not obey my teaching. These words you hear are not my own; they belong to the Father who sent me."
John 14:24
64.
"May the Lord direct your hearts into God's love and Christ's perseverance."
2 Thessalonians 3:5
65.
"How priceless is your unfailing love, O God! People take refuge in the shadow of your wings."
Psalm 36:7
66.
"If you pay attention to these laws and are careful to follow them, then the Lord your God will keep his covenant of love with you, as he swore to your ancestors."
Deuteronomy 7:12
67.
"Herein is love, not that we loved God, but that he loved us, and sent his Son to be the propitiation for our sins."
1 John 4:10
68.
"I love them that love me; and those that seek me early shall find me."
Proverbs 8:17
69.
"The Lord detests the way of the wicked, but he loves those who pursue righteousness."
Proverbs 15:9
70.
"Surely it was for my benefit that I suffered such anguish. In your love you kept me from the pit of destruction; you have put all my sins behind your back."
Isaiah 38:17
71.
"Surely your goodness and love will follow me all the days of my life, and I will dwell in the house of the Lord forever."
Psalm 23:6
72.
"I love those who love me, and those who seek me find me."
Proverbs 8:17
73.
"Anyone who loves their father or mother more than me is not worthy of me; anyone who loves their son or daughter more than me is not worthy of me."
Matthew 10:37
74.
"He will love you and bless you and increase your numbers. He will bless the fruit of your womb, the crops of your land – your grain, new wine, and olive oil – the calves of your herds and the lambs of your flocks in the land he swore to your ancestors to give you."
Deuteronomy 7:13
75.
"By day the Lord directs his love, at night his song is with me – a prayer to the God of my life."
Psalm 42:8
Here are even more Bible quotes about love
76.
"The Lord disciplines those he loves, as a father the son he delights in."
Proverbs 3:12
77.
"Hatred stirreth up strifes: but love covereth all sins."
Proverbs 10:12
78.
"While he was still speaking, a bright cloud covered them, and a voice from the cloud said, "This is my Son, whom I love; with him I am well pleased. Listen to him!"
Matthew 17:5
79.
"Praise be to the Lord your God, who has delighted in you and placed you on the throne of Israel. Because of the Lord's eternal love for Israel, he has made you king to maintain justice and righteousness."
1 Kings 10:9
80.
"He brings the clouds to punish people, or to water his earth and show his love."
Job 37:13
81.
"I trust in your unfailing love; my heart rejoices in your salvation."
Psalm 13:5
82.
"'Honor your father and mother,' and 'love your neighbor as yourself.'"
Matthew 19:19
83.
"Let love and faithfulness never leave you; bind them around your neck, write them on the tablet of your heart."
Proverbs 3:3
84.
"The only thing that counts is faith expressing itself through love."
Galatians 5:6
85.
"Because he loved your ancestors and chose their descendants after them, he brought you out of Egypt by his Presence and his great strength."
Deuteronomy 4:37
86.
"I will plant her for myself in the land; I will show my love to the one I called 'Not my loved one.' I will say to those called 'Not my people,' 'You are my people'; and they will say, 'You are my God.'"
Hosea 2:23
87.
"But those who fail to find me harm themselves; all who hate me love death."
Proverbs 8:36
88.
"Give ear and come to me; listen, that you may live. I will make an everlasting covenant with you, my faithful love promised to David."
Isaiah 55:3
89.
"Because of the Lord's great love we are not consumed, for his compassions never fail."
Lamentations 3:22
90.
"Love is patient, love is kind. It does not envy, it does not boast, it is not proud."
1 Corinthians 13:4
91.
"I will betroth you to me forever; I will betroth you in righteousness and justice, in love and compassion."
Hosea 2:19
92.
"I have been crucified with Christ and I no longer live, but Christ lives in me. The life I now live in the body, I live by faith in the Son of God, who loved me and gave himself for me."
Galatians 2:20
93.
"If I speak in the tongues of men or of angels, but do not have love, I am only a resounding gong or a clanging cymbal."
1 Corinthians 13:1
94.
"Jesus replied: 'Love the Lord your God with all your heart and with all your soul and with all your mind.'"
Matthew 22:37
95.
"I knew that you are a gracious and compassionate God, slow to anger and abounding in love, a God who relents from sending calamity."
Jonah 4:2
96.
"The Lord your God is with you, the Mighty Warrior who saves. He will take great delight in you; in his love, he will no longer rebuke you, but will rejoice over you with singing."
Zephaniah 3:17
97.
"Husbands, love your wives, just as Christ loved the church and gave himself up for her."
Ephesians 5:25
98.
"If I have the gift of prophecy and can fathom all mysteries and all knowledge, and if I have a faith that can move mountains, but do not have love, I am nothing."
1 Corinthians 13:2
99.
"One who loves a pure heart and who speaks with grace will have the king for a friend."
Proverbs 22:11
100.
"Whoever loves God is known by God."
1 Corinthians 8:3
101.
"Whoever loves money never has enough; whoever loves wealth is never satisfied with their income. This too is meaningless."
Ecclesiastes 5:10
102.
"Whoever loves pleasure will become poor; whoever loves wine and olive oil will never be rich."
Proverbs 21:17
103.
"Knowledge puffs up while love builds up."
1 Corinthians 8:1
104.
"They triumphed over him by the blood of the Lamb and by the word of their testimony; they did not love their lives so much as to shrink from death."
Revelation 12:11
105.
"My love be with you all in Christ Jesus. Amen."
1 Corinthians 16:24
106.
"Mercy unto you, and peace, and love, be multiplied."
Jude 1:2
107.
"And we have known and believed the love that God hath to us. God is love; and he that dwelleth in love dwelleth in God, and God in him."
1 John 4:16
I hope you enjoyed this collection of beautiful Bible quotes about love. What is your favorite quote from the Bible? Let us know in the comment section below and we will include it here in this article.
Stay victorious!