Being in love is amazingly beautiful. When you've fallen in love, the whole world around you is transformed. Butterflies buzz in your stomach and the knowledge that you've finally found your soulmate fills you with happiness, gratitude, and joy. The following will present you fabulous thinking of you quotes.
Love is simply beautiful. It is mysterious and magical, sometimes even perplexing. At the same time, love is perhaps the most powerful force on earth. It helps people overcome even the greatest difficulties and binds them together eternally. The power of love makes us appreciate our beloved ones not despite their faults but because of them. The reason for this is that love is a transformational power that overcomes every form of negativity. It can burn away the negative, leaving only the most positive aspects behind.
Love can come in many different shapes and forms. The beauty of this is that the love you experience is always growing and evolving into something greater. Love never feels the same, but if it is given the time, it can develop into something deeply joyful and nourishing.
Unfortunately, there are also times when your loved one is not with you. Being apart from each other is never easy. You both know that you miss each other greatly. The only thing that may keep you going during these times is the fact that you will soon be reunited again.
"The silence isn't so bad, till I look at my hands and feel sad. Because the spaces between my fingers are right where yours fit perfectly."
Adam Young
When you're not with your loved one, your feelings may play havoc. You may be thinking about your partner for hours and how beautiful it would be if he or she were with you right now.
The following thinking about you quotes will cheer you up in these situations.
The 45 Best Thinking of You Quotes
Enjoy this hand-picked collection quotes.
"If I had a single flower for every time I think about you, I could walk forever in my garden."
Claudia Ghandi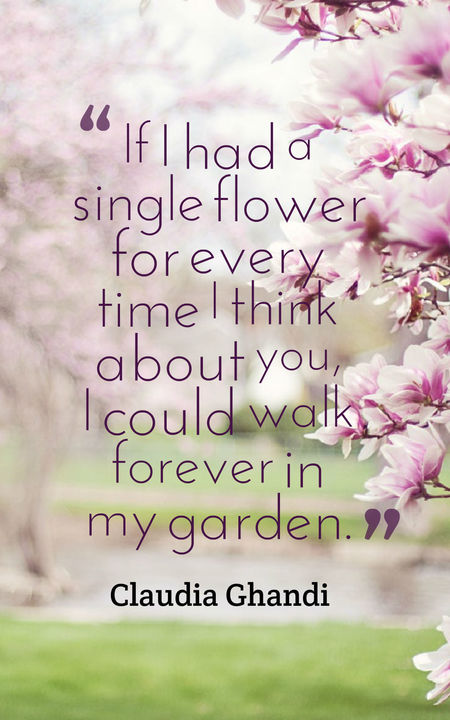 "I've learned that waiting is the most difficult bit, and I want to get used to the feeling, knowing that you're with me, even when you're not by my side."
Paulo Coelho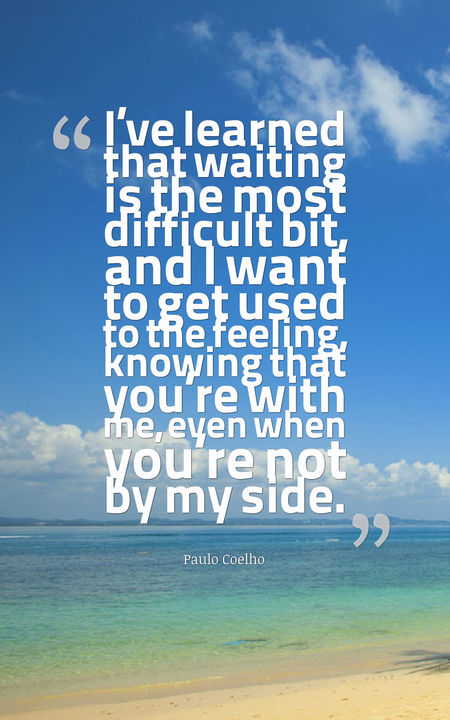 "A day without you is like a day without sunshine. A life without you is like a life without music. You are the sunshine on my face and the music in my heart."
Alfiya Shaliheen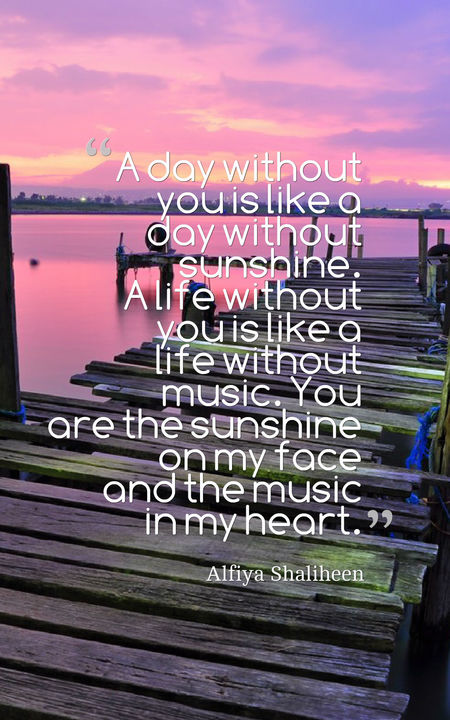 "I am thinking of you, In my sleepless solitude tonight. If it's wrong to love you, then my heart just won't let me be right. 'Cause I'm drowned in you, And I won't pull through, without you by my side."
Mariah Carey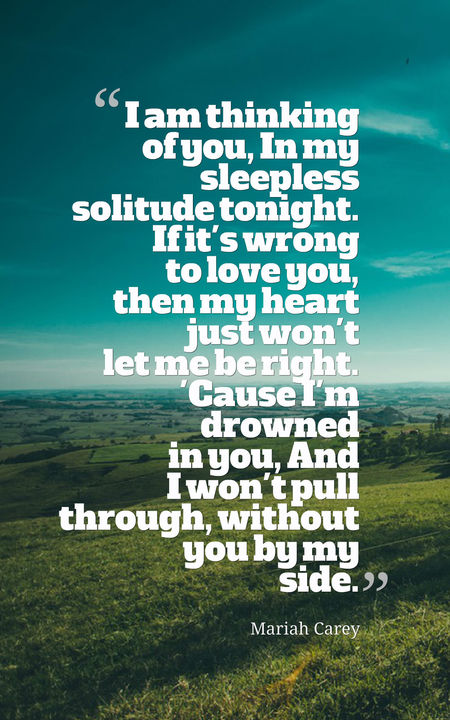 "So, here I am, all by myself, thinking of you – no one else. There's a feeling inside and as hard as I try, it just won't go away."
Angel Hema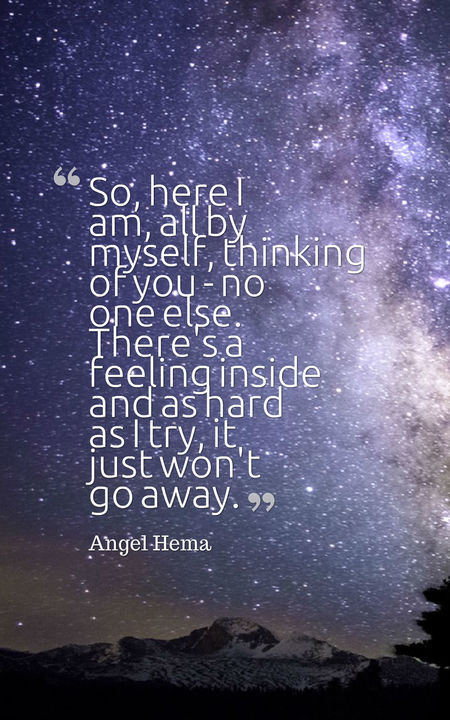 "That's how you know you love someone, I guess, when you can't experience anything without wishing the other person were there to see it, too."
Kaui Hart Hemmings
"My heart dances with joy when I think about you."
Debasish Mridha
"I have a brain to think of you. Eyes to look at you. Heart to love you. Hands to comfort you. Toes to walk with you. Mouth to say I miss you and feet to kick you, if you don't miss me too."
Unknown
"They say that time heals all wounds but all it's done so far is give me more time to think about how much I miss you."
Ezbeth Wilder
"Every parting is a form of death, as every reunion is a type of heaven."
Tryon Edwards
"My thoughts are free to go anywhere, but it's surprising how often they head in your direction. You may be not here wit me… but never out of my mind, I always think of you."
Unknown
"Words fall short whenever I want to tell you how special you are to me, but all I can say is, that my world is full of smiles whenever I think of you."
Natalie Anderson
"Thou perchance art thinking now. As I think of thee, and our thoughts in heaven above meet invisibly."
J.J. Britton
"You have no idea how hard it is to force myself to stop thinking about you.
Johnneil Bertrand
"Thinking of you every; second, minute, hour, day, is medication to my illness of missing you."
Michael Jackson
"Laughter, acceptance, love…these are the things I think of whenever I think of you."
Unknown
"Cause when I think of you, baby, nothing else seems to matter."
Janet Jackson
"When I count my blessings I count you twice."
Irish proverb
"In my thoughts of you there is an underlying love that is present in every word, every glimpse I hope you feel it as I do, for it is what I am and ever I will be."
Unknown
"May brooks and trees and singing hills join in the chorus too, and every gentle wind that blows send happiness to you."
Irish blessing
"Absence from whom we love is worse than death, and frustrates hope severer than despair."
William Cowper
"When I go away from you the world beats dead – like a slackened drum."
Amy Lowell
"My dear, not only have you touched my mind so I only think of you; but you've touched my heart in a way that I will never forget you."
Unknown
"Missing someone, they say, is self-centered. I self-center you more than ever."
Saša Stanišić
"The one good thing about not seeing you is that I can write you letters."
Svetlana Alliluyeva
"I wonder how much of the day I spend just callin' after you."
Harper Lee
"I keep myself busy with the things I do. But every time I pause, I still think of you."
Unknown
"Thinking of you makes my life complete. You're my golden clouds; you're my smile. You are all the soulful love songs within my spirit, like an angel calling me… perfect for my soul!"
Unknown
"I think about you constantly, whether it's with my mind or my heart."
Terri Guillemets
"Every time you look at me and see me smiling, just know that I am thinking of you!"
Unknown
"They say when you are missing someone that they are probably feeling the same, but I don't think it's possible for you to miss me as much as I'm missing you right now"
Edna St. Vincent Millay
"One day I caught myself smiling for no reason, then I realized I was thinking of you."
Rahul
"Promise me you'll never forget me because if I thought you would I'd never leave."
A.A. Milne
"You can decorate absence however you want- but your still gonna feel what's missing."
Siobhan Vivian
"If the portraits of our absent friends are pleasant to us, which renew our memory of them and relieve our regret for their absence by a false and empty consolation, how much more pleasant are letters which bring us the written characters of the absent friend."
Héloïse d'Argenteuil
"If there ever comes a day when we can't be together, keep me in your heart, I'll stay there forever."
A.A. Milne
"Saw two fallen branches in the shape of a heart. Thought of you."
Stephanie Perkins
"You know you're in love when you can't fall asleep because reality is finally better than your dreams."
Dr. Seuss
"When you are missing someone, time seems to move slower, and when I'm falling in love with someone, time seems to be moving faster."
Taylor Swift
"I miss you like the sun misses the flowers, like the sun misses the flowers in the depths of winter, instead of beauty to direct it's light to, the heart hardens like the frozen world which your absence has banished me to."
William Thatcher
"Love is missing someone whenever you're apart, but somehow feeling warm inside because you're close in heart."
Kay Knudsen
"As he read, I fell in love the way you fall asleep: slowly, and then all at once."
John Green
"Sometimes, when one person is missing, the whole world seems depopulated."
Lamartine
"I think of you with every waking moment of my life and dream of you with every dream that I have; I miss you."
Kong Moua
"I felt her absence. It was like waking up one day with no teeth in your mouth. you wouldn't need to run to the mirror to know they were gone"
James Dashner
I hope you enjoyed these wonderful thinking of you quotes. Let these quotes become your companion during the times when your beloved one is out of sight – but never out of your mind.
After reading all these fantastic quotes, the question remains: why can't we stop thinking of someone?
Sometimes you may find yourself missing your partner so much, that you simply cannot stop thinking of him or her. You love that particular person so much that it feels as if you could not spend a single day without them.
Thinking of someone can be quite joyful. After all, it helps you to remember all the beautiful moments you spend together side by side. It will make you feel grateful for having this special person in your life. Cherishing these beautiful moments will fill your heart with content, joy, and happiness. Even more so, it will bring a huge smile on your face.
The beautiful thing is that you don't have to hide the fact that you think of someone. You can freely and openly share it with your partner. Doing so will greatly help you to reduce the time it appears to take for both of you to see each other again.
But what can you do when you simply can't stop thinking of someone?
Here's how to stop thinking of someone
There are always situations in which thinking of someone may make you feel not too comfortable. It is, perhaps, simply too upsetting. Here's what you can do to distract yourself when you're missing someone really bad.
Don't hide yourself away. What most people do when they miss someone is that they lock themselves away. They spend hours in their home, doing nothing but thinking of the other person. But if you really want to avoid thinking of someone in an excessive manner, you have to get back out in this world. Go outside, take a walk, visit your friends or do whatever you can to divert your attention.
Follow your passions. Immersing yourself in something you're passionate about is perhaps the most effective way to bring welcome distraction to your life. Do whatever you are passionate about. Basically, every activity that allows you to forget everything around you is just fine for this.
Don't forget about your friends. When you're in a relationship with someone you love deeply enough, it can quickly happen that you forget the entire world around you, including your friends. Don't let that happen. If your partner is not around, it's a great opportunity to spend some time with your friends. It will fabulously help you to stop thinking of your beloved one.
Cross off the days until you see each other again. Sometimes, it simply cannot be avoided that your soulmate is not with you for a couple of days or even weeks. In these situations, it can be quite helpful to cross off the days on the calendar until you are reunited again.
Make use of your time. Instead feeling terrible because you miss someone, make use of the new won time. Spend some time with yourself, share some quality time with your friends. It can also help you to see the positive side of it all. Doing so will help you to make good use of the time until your partner is finally with you again.
Mix up your routines. If you find yourself thinking about your partner in always the same situations, it may be a great idea to bring some change to your routines. Say, for instance, you always think about your special one while sitting on the terrace doing nothing, introduce a little change to the routine. You could, for example, read a book while you sit outside. Alternatively, you could do something entirely different like taking a walk or riding your bike.
Learn to be more comfortable when alone. Most people simply cannot stand it when they are alone. The good news is that you can quickly learn to be perfectly happy when you are alone. Doing so will help you to think more positive of the time you spend alone with yourself. This, in turn, can greatly help you to stop thinking about your partner for some time.
These tips should have you covered until you finally see that very special person in your life again.
Love isn't always the answer. It isn't always easy. But it is definitely worth fighting for. Feel free to share this collection of quotes with your soulmate.
Even more brilliant quotes:
Stay victorious!