Are you looking for the most remarkable quotes of all time? The following list features some of the best quotes ever that will fuel your journey through life. And if you want to read even more, be sure not to miss this collection of life quotes to inspire greatness.
Just like the soundtrack of your life, inspirational quotes and wise sayings accompany you through the ups and downs of existence. They provide encouragement when the going gets tough and motivate you to push beyond your boundaries. What is so amazingly beautiful is that there is a wonderful quote for every situation in life only waiting for you to be discovered.
"Darkness cannot drive out darkness: only light can do that. Hate cannot drive out hate: only love can do that."
Martin Luther King Jr.
The right quote at the right time can work miracles. It can lift you up after a defeat just as it can help you to deal with hardship in a constructive manner. As such, quotes can help you to reframe a given situation so that things do no longer look as hopeless as they initially seemed to be.
Once you've fallen in love with particularly good quotes, you may wish to surround yourself with some of the best quotes ever. However, the difficulty lies in discovering those quotes with the potential to powerfully impact your life. To help you in saving a lot of time, we have created the following list of exceptionally great quotes that future some precious gemstones of literature.
The 115 Best Quotes Ever [Ultimate Collection]
If you read a lot, you know how difficult it is to spot those rare gems of wisdom among hundreds of pages. But when you do come across truly beautiful ideas and thoughts, it feels as if your world has been profoundly enriched. The following collection presents you some of the best quotes ever from extraordinary writers, philosophers, scientists, and adventurers that have ever lived. Enjoy reading!
Here are the best quotes ever about life, love, and happiness
1.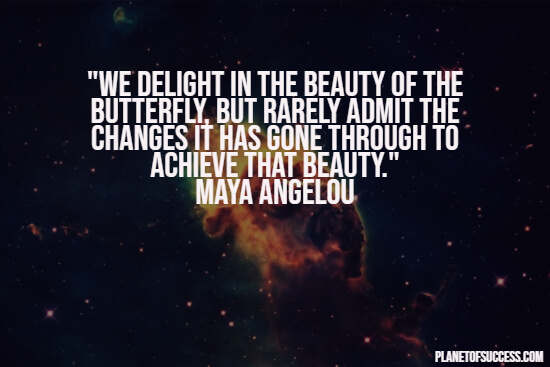 "We delight in the beauty of the butterfly, but rarely admit the changes it has gone through to achieve that beauty."
Maya Angelou
2.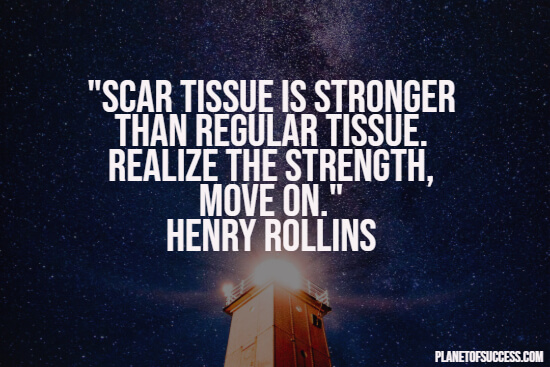 "Scar tissue is stronger than regular tissue. Realize the strength, move on."
Henry Rollins
3.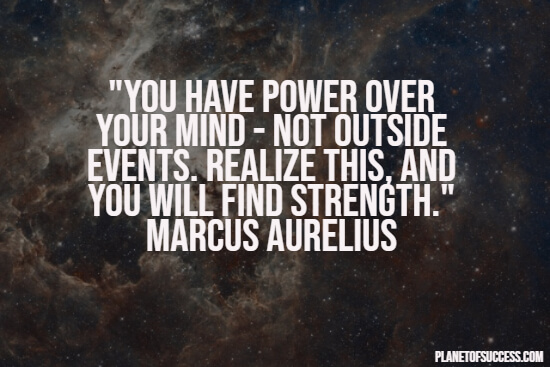 "You have power over your mind – not outside events. Realize this, and you will find strength."
Marcus Aurelius
4.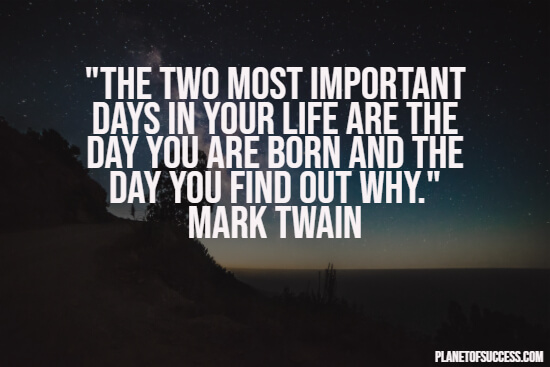 "The two most important days in your life are the day you are born and the day you find out why."
Mark Twain
5.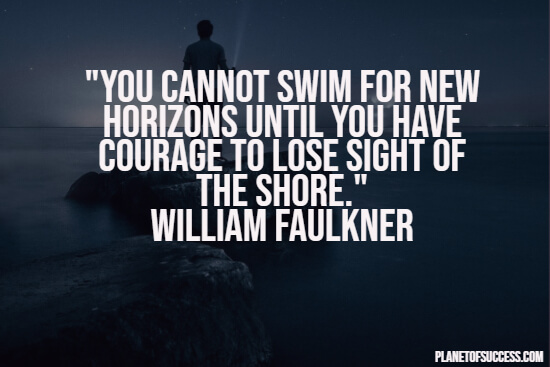 "You cannot swim for new horizons until you have courage to lose sight of the shore."
William Faulkner
6.
"By three methods we may learn wisdom: First, by reflection, which is noblest; Second, by imitation, which is easiest; and third by experience, which is the bitterest."
Confucious
7.
"All the darkness in the world cannot extinguish the light of a single candle."
St. Francis Of Assisi
8.
"Do one thing every day that scares you."
Eleanor Roosevelt
9.
"The flower that blooms in adversity is the rarest and most beautiful of all."
Walt Disney
10.
"The best and most beautiful things in the world cannot be seen or even touched. They must be felt with the heart"
Helen Keller
Can't get enough of the best quotes ever? Keep on reading
11.
"Friendship is the hardest thing in the world to explain. It's not something you learn in school. But if you haven't learned the meaning of friendship, you really haven't learned anything."
Muhammad Ali
12.
"Don't judge each day by the harvest you reap but by the seeds that you plant."
Robert Louis Stevenson
13.
"Let us be grateful to the people who make us happy; they are the charming gardeners who make our souls blossom."
Marcel Proust
14.
"Simplicity, patience, compassion.
These three are your greatest treasures.
Simple in actions and thoughts, you return to the source of being.
Patient with both friends and enemies,
you accord with the way things are.
Compassionate toward yourself,
you reconcile all beings in the world."
Lao Tzu
15.
"The successful warrior is the average man, with laser-like focus."
Bruce Lee
16.
"Pain is temporary. Quitting lasts forever."
Lance Armstrong
17.
"You never fail until you stop trying."
Albert Einstein
18.
"Clouds come floating into my life, no longer to carry rain or usher storm, but to add color to my sunset sky."
Rabindranath Tagore
19.
"The greatest glory in living lies not in never falling, but in rising every time we fall."
Nelson Mandela
20.
"You can't connect the dots looking forward; you can only connect them looking backward. So you have to trust that the dots will somehow connect in your future. You have to trust in something — your gut, destiny, life, karma, whatever. This approach has never let me down, and it has made all the difference in my life."
Steve Jobs
21.
"Somewhere, something incredible is waiting to be known."
Carl Sagan
22.
"I came. I saw. I conquered."
Julius Caesar
23.
"The Chinese use two brush strokes to write the word 'crisis.' One brush stroke stands for danger; the other for opportunity. In a crisis, be aware of the danger–but recognize the opportunity."
John F. Kennedy
24.
"Blessed is he who expects nothing, for he shall never be disappointed."
Alexander Pope
25.
"Great minds discuss ideas. Average minds discuss events. Small minds discuss people."
Henry Thomas Buckle
26.
"The desire to reach for the stars is ambitious. The desire to reach hearts is wise."
Maya Angelou
27.
"Never be afraid to raise your voice for honesty and truth and compassion against injustice and lying and greed. If people all over the world would do this, it would change the earth."
William Faulkner
28.
"That is part of the beauty of all literature. You discover that your longings are universal longings, that you're not lonely and isolated from anyone. You belong."
F. Scott Fitzgerald
29.
"In the case of good books, the point is not to see how many of them you can get through, but rather how many can get through to you."
Mortimer J. Adler
30.
"It is good to love many things, for therein lies the true strength, and whosoever loves much performs much, and can accomplish much, and what is done in love is well done."
Vincent Van Gogh
31.
"Do I not destroy my enemies when I make them my friends?"
Abraham Lincoln
32.
"The most wasted of all days is one without laughter."
Nicolas Chamfort
33.
"There comes a time when one must take a position that is neither safe, nor politic, nor popular, but he must take it because conscience tells him it is right."
Martin Luther King Jr.
34.
"To be a Christian means to forgive the inexcusable because God has forgiven the inexcusable in you."
C.S. Lewis
35.
"I know not with what weapons World War III will be fought, but World War IV will be fought with sticks and stones."
Albert Einstein
36.
"I like living. I have sometimes been wildly, despairingly, acutely miserable, racked with sorrow; but through it all, I still know quite certainly that just to be alive is a grand thing."
Agatha Christie
37.
"Success seems to be connected with action. Successful people keep moving. They make mistakes but they don't quit."
Conrad Hilton
38.
"Things work out best for those who make the best of how things work out."
John Wooden
39.
"The best revenge is to live on and prove yourself."
Eddie Vedder
40.
"What is a friend? A single soul dwelling in two bodies."
Aristotle
41.
"Wrinkles should merely indicate where the smiles have been."
Mark Twain
42.
"When you cease to dream you cease to live."
Malcolm Forbes
43.
"Our greatest fear should not be of failure… but of succeeding at things in life that don't really matter."
Francis Chan
44.
"I find that the harder I work, the more luck I seem to have."
Thomas Jefferson
45.
"The scariest moment is always just before you start."
Stephen King
46.
"A man's worth is no greater than the worth of his ambitions."
Marcus Aurelius
47.
"The best way to find out if you can trust somebody is to trust them."
Ernest Hemingway
48.
"It is during our darkest moments that we must focus to see the light."
Aristotle
49.
"Sometimes people don't want to hear the truth because they don't want their illusions destroyed."
Friedrich Nietzsche
50.
"That which does not kill us makes us stronger."
Friedrich Nietzsche
Here are even more gems of the best quotes ever
51.
"If you have a garden and a library, you have everything you need."
Cicero
52.
"If you look for perfection, you'll never be content."
Leo Tolstoy
53.
"None but ourselves can free our minds."
Bob Marley
54.
"The problem with the world is that the intelligent people are full of doubts, while the stupid ones are full of confidence."
Charles Bukowski
55.
"When the power of love overcomes the love of power, the world will know peace."
Jimi Hendrix
56.
"Twenty years from now you will be more disappointed by the things that you didn't do than by the ones you did do. So throw off the bowlines. Sail away from the safe harbor. Catch the trade winds in your sails. Explore. Dream. Discover."
H. Jackson Brown Jr.
57.
"There is only one thing that makes a dream impossible to achieve: the fear of failure."
Paulo Coelho
58.
"No thief, however skillful, can rob one of knowledge, and that is why knowledge is the best and safest treasure to acquire."
L. Frank Baum
59.
"Yesterday is history, tomorrow is a mystery, today is a gift of God, which is why we call it the present."
Bill Keane
60.
"Freedom is not worth having if it does not include the freedom to make mistakes."
Mahatma Gandhi
61.
"Everybody is identical in their secret unspoken belief that way deep down they are different from everyone else."
David Foster Wallace
62.
"It's kind of fun to do the impossible."
Walt Disney
63.
"Sometimes crying or laughing are the only options left, and laughing feels better right now."
Veronica Roth
64.
"There may be times when we are powerless to prevent injustice, but there must never be a time when we fail to protest."
Elie Wiesel
65.
"Passion first, and everything else will fall into place."
Holly Holm
66.
"If you look at what you have in life, you'll always have more. If you look at what you don't have in life, you'll never have enough."
Oprah Winfrey
67.
"People find it far easier to forgive others for being wrong than being right."
J.K. Rowling
68.
"One day, in retrospect, the years of struggle will strike you as the most beautiful."
Sigmund Freud
69.
"Maybe who we are isn't so much about what we do, but rather what we're capable of when we least expect it."
Jodi Picoult
70.
"The future belongs to those who believe in the beauty of their dreams."
Eleanor Roosevelt
71.
"It is amazing how complete is the delusion that beauty is goodness."
Leo Tolstoy
72.
"Life is to be enjoyed, not endured"
Gordon B. Hinckley
73.
"The simple things are also the most extraordinary things, and only the wise can see them."
Paulo Coelho
74.
"Everything is possible. The impossible just takes longer."
Dan Brown
75.
"The most painful thing is losing yourself in the process of loving someone too much, and forgetting that you are special too."
Ernest Hemingway
Some of these best quotes ever make you absolutely speechless
76.
"The world as we have created it is a process of our thinking. It cannot be changed without changing our thinking."
Albert Einstein
77.
"Three things in human life are important: the first is to be kind; the second is to be kind; and the third is to be kind."
Henry James
78.
"Dare to live the life you have dreamed for yourself. Go forward and make your dreams come true."
Ralph Waldo Emerson
79.
"I like the night. Without the dark, we'd never see the stars."
Stephenie Meyer
80.
"It is better to fail in originality than to succeed in imitation."
Herman Melville
81.
"Worry does not empty tomorrow of its sorrow, it empties today of its strength."
Corrie Ten Boom
82.
"Education is the most powerful weapon which you can use to change the world."
Nelson Mandela
83.
"All endings are also beginnings. We just don't know it at the time."
Mitch Albom
84.
"Rather than love, than money, than fame, give me truth."
Henry David Thoreau
85.
"I have heard there are troubles of more than one kind. Some come from ahead and some come from behind. But I've bought a big bat. I'm all ready you see. Now my troubles are going to have troubles with me!"
Dr. Seuss
86.
"Your time is limited, so don't waste it living someone else's life. Don't be trapped by dogma – which is living with the results of other people's thinking."
Steve Jobs
87.
"Yesterday I was clever, so I wanted to change the world. Today I am wise, so I am changing myself."
Rumi
88.
"There is nothing noble in being superior to your fellow man; true nobility is being superior to your former self."
Ernest Hemingway
89.
"The secret of success is to do the common thing uncommonly well."
John D. Rockefeller Jr.
90.
"The real test is not whether you avoid this failure, because you won't. It's whether you let it harden or shame you into inaction, or whether you learn from it; whether you choose to persevere."
Barack Obama
91.
"If you are not willing to risk the usual, you will have to settle for the ordinary."
Jim Rohn
92.
"You may not control all the events that happen to you, but you can decide not to be reduced by them."
Maya Angelou
93.
"My life amounts to no more than one drop in a limitless ocean. Yet what is any ocean, but a multitude of drops?"
David Mitchell
94.
"Someone is sitting in the shade today because someone planted a tree a long time ago."
Warren Buffett
95.
"My tastes are simple: I am easily satisfied with the best."
Winston S. Churchill
96.
"We are not necessarily doubting that God will do the best for us; we are wondering how painful the best will turn out to be."
C.S. Lewis
97.
"The worst part of holding the memories is not the pain. It's the loneliness of it. Memories need to be shared."
Lois Lowry
98.
"Trust yourself. You know more than you think you do."
Benjamin Spock
99.
"You are the answer to every prayer I've offered. You are a song, a dream, a whisper, and I don't know how I could have lived without you for as long as I have."
Nicholas Sparks
100.
"It's like everyone tells a story about themselves inside their own head. Always. All the time. That story makes you what you are. We build ourselves out of that story."
Patrick Rothfuss
101.
"Happiness is a butterfly, which when pursued, is always beyond your grasp, but which, if you will sit down quietly, may alight upon you."
Nathaniel Hawthorne
102.
"Spread love everywhere you go. Let no one ever come to you without leaving happier."
Mother Teresa
103.
"With freedom, books, flowers, and the moon, who could not be happy?"
Oscar Wilde
104.
"All our dreams can come true if we have the courage to pursue them."
Walt Disney
105.
"Don't grieve. Anything you lose comes round in another form."
Rumi
106.
"I am coming to terms with the fact that loving someone requires a leap of faith, and that a soft landing is never guaranteed."
Sarah Dessen
107.
"Love does not begin and end the way we seem to think it does. Love is a battle, love is a war; love is a growing up."
James A. Baldwin
108.
"There is no surer foundation for a beautiful friendship than a mutual taste in literature."
P.G. Wodehouse
109.
"Truth is stranger than fiction, but it is because Fiction is obliged to stick to possibilities; Truth isn't."
Mark Twain
110.
"If you love somebody, let them go, for if they return, they were always yours. If they don't, they never were."
Kahlil Gibran
111.
"The best and most beautiful things in the world cannot be seen or even touched – they must be felt with the heart."
Helen Keller
112.
"There is nothing in the world so irresistibly contagious as laughter and good humor."
Charles Dickens
113.
"The greatest glory in living lies not in never falling, but in rising every time we fall."
Nelson Mandela
114.
"A dream doesn't become reality through magic; it takes sweat, determination, and hard work."
Colin Powell
115.
"If you remember me, then I don't care if everyone else forgets."
Haruki Murakami
I hope you enjoyed this collection of the best quotes ever. What is the most powerful and most inspirational quote that you have ever come across?
Stay victorious!