Music can be such a fantastic source of motivation. It's almost like a waste not to use it! So why don't we try to tap that powerful energy and use it as an energetic boost of motivation? In the following you can find a massive list of the most inspirational songs that are proven to be highly motivational. "But why is music so effective," you might ask. The reason why your favorite song can be such a great motivator lies in the fact that music is able to elicit positive emotions; it can stir a spirit of optimism, energize you and get you into that epic "I can do anything" mindset – if the songs are chosen wisely. (For even more motivation, be sure to have a look at our hand-picked selection of The Most Inspirational Movies Ever).
No matter if you need to get motivated for work or studying, search for pump up music for sports or songs that will simply inspire you to boost your creativity, the following list will offer you a huge variety of motivational songs, from all kinds of different genres. If you feel that my list is lacking your favorite motivational songs, please feel free to submit all of your favorite songs that boost your motivation via the comments section at the end of this article and I will make sure to include them into this list as well!
If you want to learn how you can motivate yourself in the long run, have a look at the Ultimate Guide to Motivation.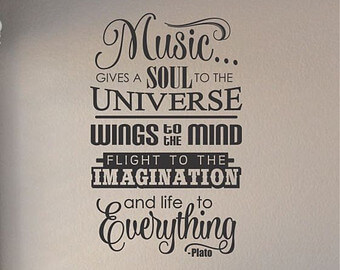 In the following you can find a collection of some of the utmost motivational songs and the best motivational music, separated into the categories Soundtrack Music, Pop, Hip-Hop & Rap, Classic, Rock & Metal and Techno & House. Hint: you should stay away from music that either creates sadness or tiredness, such as ballads and lounge music, as they won't have a noteworthy motivational benefit. Feel free to skip to each section by using the following short-links.
Table of Content

I. The Top 10 Motivational Songs
II. Motivational Songs sorted by Category

A) Motivational Soundtrack Music
B) Motivational Pop Songs
C) Motivational Hip-Hop & Rap Songs
D) Motivational Classic Songs
E) Motivational Rock & Metal Songs
F) Motivational Techno & House Music
All right, let's get started with this list. I hope you like it and even more important, I hope you find some amazing songs that allow you to boost motivation!
I. The Top 10 Motivational Songs
#1 Jorge Quintero – 300 Violin Orchestra
Some call it an epic song, others consider it to be "the best pump up song that ever existed". But these are just notations, more important is what this song makes you feel. For me, it makes me want to get up, run around the block or do something productive/creative. Amazingly, it radiates a feeling of optimism and stirs the desire for heroic adventures. This song has everything an excellent motivational song needs: stomping drums, main strings accompanied by string hits and an epic choir rounded up with a supporting bass in the background. The song was featured in the introduction video of the first MLB game in 2009 and the ABC television series "Flash forward".
#2 Rob Bailey and The Hustle Standard – Hungry Hungry is not the typical song one expects in such a list. Tastes might differ on this combination of different music styles ranging from hardcore to rap and dubstep, but the song will definitely get you pumped up. If you're looking for motivation, look no further. You can feel that there is a lot of passion behind the lyrics, which complete the aggressive, hard-hitting style of this song. The unique sound of the song makes an excellent addition to every workout mix.
#3 Bastille – Pompeii
Pompeii is a pop-rock song that draws the analogy of the distruction of the Italian city Pompeii through an volcanic outburst. The sound is unique and somehow different. Especially the vocal chorus in combination with the great percussions make the song really motivational. YouTube video: Bastille – Pompeii.
#4 Steve Jablonsky – Arrival to Earth
If you haven't considered listening to motivational soundtrack scores for motivation, you should definitely give it a try. Steve Jablonsky's songs for the Transformers trilogy are highly addictive and the song "Arrival to Earth" is amazingly motivating, even though I haven't even seen the movies themselves. I simply wasn't interested in the Transformers movies. Nonetheless, this motivational soundtrack song elicits a feeling of hope, but also peace and tranquility mixed with glory. All in all, I consider this song as a heroic theme that leaves a lasting impression on the listener. Music video for Steve Jablonsky's Arrival to Earth on YouTube.
#5 50 Cent – Ready for war (Mayweather vs De La Hoya remix)
I'm not sure if you are into hip-hop, but this remix is just fantastic, even if you do not like hip-hop at all. It's a fantastic remix of a song by 50 cent, called "Ready for war". It's only instrumental, but nonetheless, very motivating and energizing. The perfect work-out music! The continuously clapping drums will make you want to go for more than you ever achieved, to overcome the obstacles and to reach even the most aspiring goals! 50 Cent – Ready for War (YouTube).
#6 Flo Rida – Good feeling
This is one of the typical feel good songs that energize you quickly and get you into a good mood. The song is all about staying focused on your dreams and doing whatever it takes to make them come true. The positive message of this tune boils down to "live your life to the fullest." Combined with Flo Rida rapping his vow to never give up this one should give you a nice little boost.
#7 David Guetta ft. Sia – Titanium
This song is not the typical David Guetta house-track. What makes this song so special are the magnetic lyrics that are full of empowering words.
I'm bulletproof, nothing to lose Fire away, fire away Ricochet, you take your aim Fire away, fire away You shoot me down but I won't fall I am titanium
Here is the video link to David Guetta's Titanium on Vimeo.
#8 Ennio Morricone – The Ecstasy of Gold
This song is a fabulous classic. It's (once again) a truly motivational soundtrack song from the film "The Good, the Bad and the Ugly" (1966) and was composed and orchestrated by Ennio Morricone. Every part of this song is epic, from the tranquil opening that is followed by brooding vocals to the part where the whole orchestra steps in. This song is pure ecstasy that makes you collapse in an exhaustive state at the crescendo! A song that is made to give you goosebumps all over your body.
You can find the link to the YouTube video here: The Ecstasy of Gold. In case you prefer listening to heavy metal, you should give Metallica's cover of this song "The Ecstasy of Gold" a try.
#9 Bill Conti – Gonna Fly Now
Bill Conti's theme to the "Rocky" movie series is the perfect song to boost motivation, not only for your work-out, bodybuilding or running endeavors, but also for finding the right motivation while on the way to work, or when trying to get motivated to study. It's a song that should be included in any list of motivational songs, because it's simply too good! Every time I listen to this great song, I envisage the movie's main character Rocky Balboa completing his famous training, by running up the stairs of the Philadelphia Museum of Art, raising his arms in the victory pose, once he finished. Also, this fantastic song makes me think about all my dreams and aspirations in life, not to mention the huge boost in motivation I get while listening to it.
#10 Macklemore ft. Ryan Lewis – Can't hold us
Here's a song with rhythmic horn choruses that flood every room with a triumphant vibe. The whole song has a driving energy to it that will make you want to throw your hands up in the air. You can find it here: Macklemore ft. Ryan Lewis – Can't hold us.
#11 Imagine Dragons – On top of the world
On top of the world is a positive upbeat song that gets you quickly into a positive mood. The playful lyrics make life seem a little bit easier whenever the song plays. Imagine Dragons – On Top of the World (YT video).
#12 Paul Potts – Nessun Dorma
The following song isn't one of the "typical motivational songs" that can be found in this list. Instead, it's an aria from the final act of Giacomo Puccini's opera entitled "Turandot", which is traditionally performed by a tenor such as Pavarotti. I've chosen to include Paul Potts' performance of Nessun Dorma (English: None shall sleep) on Britain's Got Talent, because it's stunning. You can find it here: Paul Potts (YouTube).
I don't speak Italian, hence I do not understand the message of this song, but the motivating message that comes with Paul Potts' amazing performance is clear. The aria literally screams: you can achieve anything in your life! Focus on your goals, dream your dreams and then go for it. If you can imagine it, you can get it! I personally recommend this song to anyone, even those who don't like opera's in general.
#13 Queen – We will Rock You
Queen's "we will rock you" is one of their most popular songs, besides the power ballad "we are the champions". Both songs are amazingly motivating, but I've chosen to include the more powerful and energetic "we will rock you" into this list. The stamping and clapping are forming the rhythmic beat that is accompanied by a capella vocals make this song so unique, energizing and motivating. Queen – We will rock you (album version).
#14 Carl Orff – O Fortuna
We can agree to disagree, but this song has to be included into the top 10 of motivational songs, in my opinion. "O Fortuna" is a Latin poem, dedicated to the Roman goddess Fortuna, the personification of luck. The German composer Car Orff set the poem to music and created a masterpiece for his cantata "Carmina Burana".
From the beginning to the end, this masterpiece is just epic. In the beginning, the choir welcomes you with a fabulous aria, accompanied by thumping drums, building into a crescendo of horns, strings and drums until it peaks. "O fortuna" has become so popular that it was adapted in popular movie scenes, such as Excalibur, Hunt for Red October, Speed, The Doors, Natural Born Killers, Jackass: The Movie and many more. It's an epic masterpiece that makes me envision hordes of warriors chasing on the backs of their horses across the horizon. Not to mention the elusive boost in motivation when listening.
#15 Vangelis – Chariots of Fire
"Chariots of fire" is a very simplistic, yet very beautiful song. It's THE motivational running song, every time I listen to it, I envision people running on the beach, breaking new and greater records, overcoming boundaries that no one else has ever overcome. It's an inspiring song, that awakens the desire to do great things in life and to become just awesome. Feel free to have a listen here: Chariots of Fire (YouTube).
Encore
#16 U2 – Beautiful Day
U2's "Beautiful day" is one of those amazing songs where you close your eyes, forget everything around you, feel the warmth of the sun on your skin and know that life's a wonderful miracle. Listening to this fantastic song is a wonderful experience that gives you chills thoroughgoing. When you are feeling down, this is the song that uplifts your mood in an instant. You can find the song on YouTube here: U2 – Beautiful Day.
#17 Enigma – Return to Innocence
The song has wonderful lyrics and the aboriginal Taiwanese chants make this song so special and interesting.
II. Motivational Songs sorted by Category
The following songs are sorted by genre, beginning with motivating soundtrack music and followed by pop, hip-hop, classic, rock and house music.

A) Motivational Soundtrack Music
Steve Jablonsky – Arrival to Earth (Transformers Soundtrack)
James Newton Howard – Epilogue (I am Legend Soundtrack)
John Powell – Test drive (How to train your Dragon Soundtrack)
Howard Shore – The Ring goes South (Lord of the Rings I Soundtrack)
Howard Shore – The Fellowship (Lord of the Rings I Soundtrack)
Hans Zimmer – Time (Inception Soundtrack)
Hans Zimmer – Red Warrior (The Last Samurai Soundtrack)
Hans Zimmer & James Newton Howard – Like a Dog chasing Cars (The Dark Knight Soundtrack)
Gustav Holst – Jupiter, the Bringer of Jollity (The Planets Suite)
B) Motivational Pop Songs
U2 – It's a Beautiful Day
Michael Jackson – Beat it
Michael Jackson – Man in the Mirror
U2 – Elevation
Katrina and the Waves – Walking on Sunshine
Bon Jovi – Unbreakable
Bon Jovi – It's my Life
Elton John – I'm still standing
Beach Boys – Good Vibrations
Ace of Base – It's a Beautiful Life
Paul Engemann – Push it to the Limit
Paul Hoffman – You're Unstoppable
Jimi Jamison – I'll be ready
Men at Work – A Land Down Under
The Rembrandts – I'll be There For You
Toto – Africa
Smash Mouth – All Star
Cristina Aguilera – Fighter
Mariah Carey – Hero
Nickelback – Gotta be Somebody
Jana Stanfield – Born for Greatness
Emily Shackelton ft. David Cook – Dream Big
Tina Turner – Simply the Best
Jakata ft. Seal – My Vision
Hurts – Wonderful Life
Nelly Furtado – Manos al Aire
Shaggy – Hope
Johnny Nash – I can see clearly now
Des'ree – You gotta be
Jimmy Eat World – The Middle
C) Motivational Hip-Hop & Rap Songs
Snap – I got the Power
Tupac – Me against the World
Eminem – Till I Collapse
Eminem – Loose Yourself
The Notorious B.I.G – Sky's the Limit
The Notorious B.I.G ft. Puff Daddy – Victory
The Notorious B.I.G – Juicy
Nelly – Heart of a Champion
NAS ft. P.Diddy – Hate me now
NAS – Hero
NAS – I can
NAS – One Mic
50 Cent – Ready for War
50 Cent – Get Up
Kanye West – Good Friday
Kanye West – Touch the Sky
Kanye West – Go Hard
Kid Cudi – Heart of a Lion
Kid Cudi – Pursuit of Happiness
Kid Cudi – Up Up and Away
Jay-Z – Heart of a city
Jay-Z – Dirt Off Your Shoulders
Jay-Z ft. Mr. Hudson – Forever Young
NWA – Express Yourself
T.I. – No Matter What
Ghostface Killah – The Champ
Rick Ross – Push It
Outcast – Git Up, Git Out
Cypress Hill – Rock Superstar
MC Hush – All I got
Classified – All about you
Roy Jones Jr. – Can't be touched
DMX ft. Fort Minor – Give me a Sign (Remix)
Fort Minor – Remember the Name
R. Kelly – I believe I can fly
Royce Da 5'9 – Can't Nobody Stop Me
Flipside – Someday
Gym Class Heroes – Shoot Down The Stars
Ice Cube – You Can Do It
Magnetic North – Demons (remix)

D) Motivational Classic Songs
Jose Quintero – 300 Violin Orchesta
Carl Orff – O Fortuna
Ennio Morricone – The Ecstasy of Gold
Bill Conti – Gonna Fly Now
Luis Armstrong – What a Wonderful World
Enya – Orinoco Flow
Pavarotti – Nessun Dorma
E) Motivational Rock & Metal Songs
Phil Collins – Sussudio
Phil Collins – In the Air Tonight
Queen – We Will Rock You
Queen – We are the Champions
ACDC – Thunderstruck
Metallica – Enter Snadman
The Who – Pinball Wizard
Survivor – Eye of the Tiger
Europe – The Final Countdown
Van Halen – Right Now
Kenny Loggins – Danger Zone
Tom Cochrane & Red Rider – Life Is a Highway
Savage Garden – Affirmation
Nirvana – Smells Like Teen Spirit
Red Hot Chili Peppers – Can't Stop
Billy Talent – Red Flag
The Killers – When you were young
Blur – Song 2
Skillet – Awake and Alive
Breaking Benjamin – I will not bow
P.O.D. – Boom
Linkin Park – In the End
Pillar – Frontline
Blue October – Jump Rope
Paul Stanley – Live to Win
All American Rejects – Move Along
Drowning Pool – Let the Bodies hit the Floor
Rise Against – Prayer of the Refugee
Disturbed – Down with the Sickness
Dope – Survive
Pantera – 5 Minutes Alone
Rob Zombie – Dragula
Amon Amarth – Gods of War Arise
Nine Inch Nails – Wish
Dope Stars Inc – Bang Your Head
Probot – Shake Your Blood
Saliva – Ladies and Gentlemen
Skillet – Monster
Skillet – Hero
ACDC – Highway to Hell
F) Motivational Techno, Electronic & House Music
Tom Pulse – Cuando
Daft Punk – Harder Better Faster Stronger
Daft Punk – Around the World
David Guetta vs. David Bowie – Just For One Day (Heroes)
Tiësto – Power Mix
Big Ali – Neon Music
Guru Josh Project – Infinity
Dave Darell – Freeloader
Spencer & Hill – Housebeat
Eiffel 65 – Move Your Body

III. Motivational Music submitted by Readers
Kutless – What Faith Can Do
Bon Jovi – Unbreakable
Irene Cara – What A Feeling
Optimistic – Sounds Of Blackness
Tracy Chapman – Fast Cars
Suede – Beautiful One
Powerman 5000 – Bombshell
Survivor – The Moment of Truth
Moody Blues – This is the Moment
Michael Franti – Hey Hey Hey
Guano Apes – Open Your Eyes
Foo Fighters – Everlong
Bon Jovi – Lay Your Hands on Me
Stevie Wonder – I Wish
Gary Glitter – The Hey Song
POD – Boom
Muse – Invincible
Muse – Butterflies and Hurricanes
The best Hip Hop melody by The Knarly Project
Crysis 2 Full Soundtrack – Hans Zimmer
Crimson Tide Theme – Hans Zimmer
The Rock Theme – Hans Zimmer
Heavy Rain – Ethan Mars Theme
Journey to Transilvania – Alan Silvestri (van Helsing Soundtrack)
Assassins Creed, Access the Animus – Jesper Kyd
Matrix Revolutions, Burly Brawl – Don Davis
Assassins Creed II, Venice Escape – Jesper Kyd
Crysis Warhead, Hovercraft Pursuit Theme – Peter Antovszki
Europa – Globus
Truth Be Known – Atlas Plug
Clint Mansell – Lux Aeterna
Watch me shine – Joanna Pacitti
Through The Rain – Mariah Carey
Winner – Kizzy McHugh
Go the distance – Michael Bolton
Can Do It – Helloween
Red Hot Chili Peppers– Soul to squeeze
Stone Temple Pilots– Plush
Manowar– Master of the wind
I hope you like this massive list of motivating songs. Now it's up to you to select your favorites, turn up the volume and get a quick boost of motivation.
Check out the following motivational articles:
---
Disclaimer: All videos in this article are embedded from YouTube. This means that NONE of the videos and/or their contents were uploaded to this website! The content holders of the videos are responsible for their contents.

What is your most favorite song to get you pumped and motivated? Feel free to share your songs in the comment section below.