What would life be without your best friend? To most of us, living life without having our best friends around us would be absolutely horrific. While it is possible to live your life without any friendships whatsoever, it wouldn't be that fun. In fact, you can conquer the entire world, but it wouldn't be truly worthwhile if you can't share your accomplishments with your beloved ones. The following collection of best friend quotes celebrates the power of friendship and the positive impact our friends have in our lives. And if you can't get enough, have a look at our selection of friendship quotes and funny friendship quotes.
Your friends celebrate your greatest victories with you and stand at your site during your greatest defeats. They are your strength and courage during trials and tribulation and encourage you to reach for the stars. You can count yourself fortunate if you have a couple of true friends who would do anything for you. Even more so, it's good to know that a couple of your biggest secrets and the things only your best friend knows about you are kept safe with a trustworthy friend.
"A friend is someone who knows all about you and still loves you."
Elbert Hubbard
Interestingly enough, it doesn't matter so much how many friends you have. When it comes to friendship, quality is more important than quantity. You can have hundreds of acquaintances, but not many will stand right at your side during times of distress. That's the great challenge of knowing which friends to trust.
It's quite likely that you have a lot of friends around you when things are going great. However, it's only during times of great challenges that friendships are put to the test. When you're going through hell, you'll definitely find out who your true friends are. And even though these tough times may challenge you to the greatest degree, you'll at least know who among your friends you can rely upon.
150 Best Friend Quotes to Warm Your Heart
The following authors have numerous important insights to share about friendship. Some of these best friend quotes are celebrating the joy of having friends who support you. Others may caution you about the dangers of fake friends and manipulators that come in many disguises. But one thing is for sure, these are the best quotes you can find on friendship. Enjoy reading.
To give you a better overview, we categorized the following quotes into different chapters:
Here's our collection of the best friend quotes of all time
1.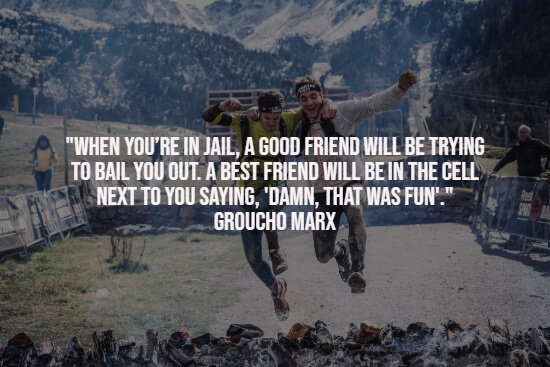 "When you're in jail, a good friend will be trying to bail you out. A best friend will be in the cell next to you saying, 'Damn, that was fun'."
Groucho Marx
2.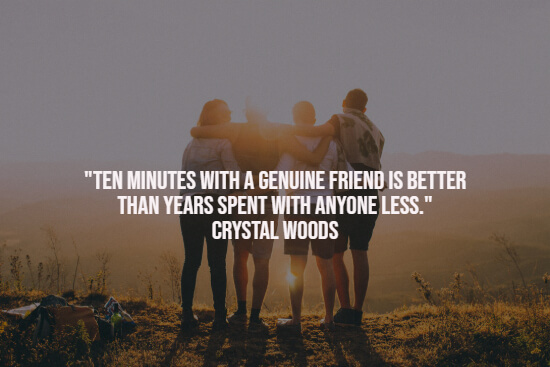 "Ten minutes with a genuine friend is better than years spent with anyone less."
Crystal Woods
3.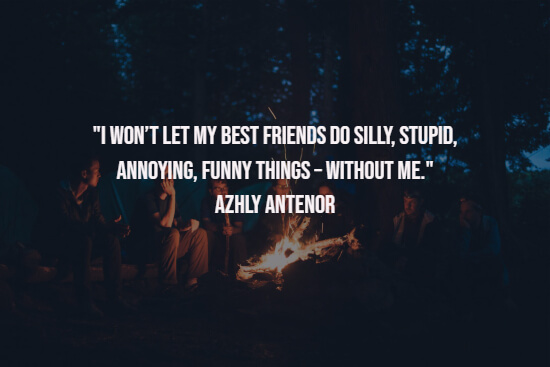 "I won't let my best friends do silly, stupid, annoying, funny things – without me."
Azhly Antenor
4.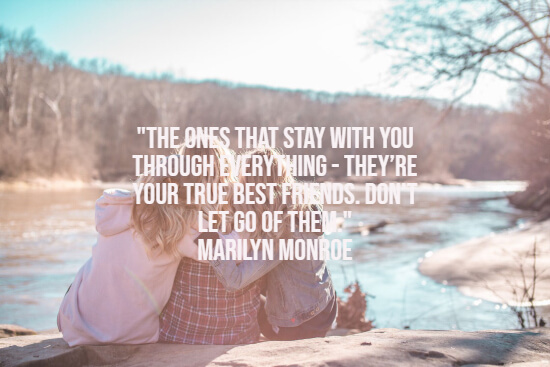 "Girls will be your friends – they'll act like it anyway. But just remember, some come, some go. The ones that stay with you through everything – they're your true best friends. Don't let go of them."
Marilyn Monroe
5.
"That was the thing about best friends. Like sisters and mothers, they could annoy you and make you cry and break your heart, but in the end, when the chips were down, they were there, making you laugh even in your darkest hours."
Kristen Hannah
6.
"True love is finding your soulmate in your best friend"
Faye Hall
7.
"They had battled and bloodied one another, they had kept secrets, broken hearts, lied, betrayed, exiled, they had walked away, said goodbye and sworn it was forever, and somehow, every time, they had mended, they had forgiven, they had survived. Some people can't be driven away, no matter how hard you try. Some friendships won't break."
Robin Wasserman
8.
"Friends are a strange, volatile, contradictory, yet sticky phenomenon. And yet, true friendship, once recognized, in its essence is effortless. Best friends are formed by time."
Vera Nazarian
9.
"That's the problem with best friends. Sometimes they know you better than you know yourself."
Cecily von Ziegesar
10.
"You want a piece of all this fabulousness? Well, my best friend comes along with it."
Cassandra Clare
These best friend quotes are really on point
11.
"That was what a best friend did: hold up a mirror and show you your heart."
Kristin Hannah
12.
"Actually, I think it's the opposite. We know each other so well there isn't anything left to say. Sometimes it's nice just sitting here with you all, thinking. It's only best friends who can be comfortable with silence, wouldn't you say?"
Benjamin Wood
13.
"When best friends come together, the shining spirit of solidarity replaces the brightest star, Sirius!"
Mehmet Murat ildan
14.
"Those whom a person shares a sense of humor with are his closest friends. They are always there to make the biggest influence."
Criss Jami
15.
"This is a thing I've found only best friends can do—press pause on a conversation and then press play again at any moment."
Paula Stokes
16.
"The absolute horror of losing your best friend because you were stupid enough to fall in love with her."
Jamie McGuire
17.
"A true friend is one you can go extended periods without seeing or talking to, yet the moment that you are back in touch, it's like no time has passed at all."
Ellie Wade
18.
"Soulmates always end up together. Ex-girlfriends are easily forgotten. Best friends stay with you forever."
Cecelia Ahern
19.
"The difference between your friend and your best friend is that your friend asks, 'Are you are ok?' and your best friend asks, 'Do you want to talk about it?"
Savania China
20.
"The best friends are made in childhood when we have no ulterior motives."

Best friend quotes like this really hit home

Tapan Ghosh
21.
"Stick around long enough to become someone's best friend."
Vera Nazarian
22.
"The interesting thing I've learned about best friends is that you can have more than one. I have two. One I love with passion, the other I love with complete affection."
April White
23.
"A friend is not the shadow that mimics you, but the one who casts all shadows away."
Shannon L. Alder
24.
"A true best friend loves you even when it seems like you've gone off the deep end."
Liz Fenton
25.
"Former best friends make the worst enemies."
Mokokoma Mokhonoana
26.
"Loyal friends have your back. And the ones that don't, can watch you from behind."
Steven Cuoco
27.
"I would much rather have imaginary friends who were real than real friends who were imaginary."
Rebecca McNutt
28.
"We didn't want to admit it then, but we were friends. Best friends."
Shannon Celebi
29.
"The best friendships are built on a solid foundation of shenanigans and general misbehavior."
Michelle R.
30.
"Best friends will always make the best of enemies because they know each other so well, but the best of enemies will never be the best of friends because they know very little about each other."
Anthony T. Hincks
These best friend quotes celebrate the power of friendship
31.
"You guys are so much alike it's scary. I mean, either you would've been best friends or you would've strangled each other."
Rick Riordan
32.
"It turns out that having a best friend during adolescence is an important part of becoming a well-adjusted adult. Those without one are more likely to be bullied and marginalized and to carry these experiences into becoming disagreeable adults."
Daniel J. Levitin
33.
"A best friend is the one person that doesn't leave you worse off by their actions or yours."
Shannon L. Alder
34.
"Best friends are people hard to find, difficult to be, and impossible to live without. They are the people you get along with so easily in the journey called life."
Khushi Parwal
35.
"You were always the Harry to my Hermione, flushing away my erratic anxiety with the crudest sense of realism."
Maria Elena
36.
"The only healthy marriages that survive are the ones where two people became best friends and learned how to rescue one another, over and over again."
Shannon L. Alder
37.
"Just because I'm not there, doesn't mean I'm not here for you."
Jacquelyn Middleton
38.
"The true measure of a best friend is where they are when you "make" the biggest decision of your life, not where they were during the decision process."
Shannon L. Alder
39.
"These were my new best friends, individuals whom I would go all out for, and who would do the same for me."
Drexel Deal
40.
"Bloody noses had made them friends, but giving sound to the bruised places in their hearts made them brothers."
Gloria Naylor
Best friend quotes like this remind you of your true friends
41.
"You don't know what it's like, when your best friend disappears."
Scott Westerfeld
42.
"Anyone can have a friend, but the one that would walk in a storm to find you is all you will ever need."
Shannon L. Alder
43.
"When life gives up on you, know that your best friend will always be there."
Katie Matz
44.
"That's what best friends do: ruin people for everyone else."
Emma Straub
45.
"Being in love with someone was supposed to be a sweet and tender release. However, being in love with your best friend, who didn't interpret those feelings in the same way, became a violently brutal ache."
Angela McPherson
46.
"You can't hate your best friend for taking opportunities he'd been given. That would be the worst sort of hate, wouldn't it? Because it would mean you hate yourself, too."
Craig Davidson
47.
"For about the millionth time in her life she felt an overwhelming gratitude for her best friend. There weren't many people in this world who would let you be vulnerable and still believe you were strong."
Rob Thomas
48.
"Best friends are those people who reveal to you what is wonderful inside of you, and you can all still laugh together."
Debasish Mridha
49.
"She knew me better than I knew myself. But then again, isn't that a best friend's job?"
Ally Carter
50.
"I would rather have 1 amazing best friend than 100 decent regular friends. It's not about quantity, it's about quality."
Connor Franta
Funny best friend quotes
51.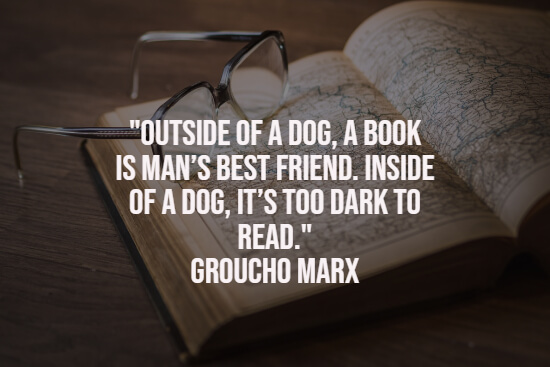 "Outside of a dog, a book is man's best friend. Inside of a dog, it's too dark to read."
Groucho Marx
52.
"We are your friends. It is the law of friendship that you tell us things you don't want to tell us."
J. Lynn
53.
"Friends are God's way of apologizing for your family."
Dr. Wayne W. Dyer
54.
"It is one of the blessings of old friends that you can afford to be stupid with them."
Ralph Waldo Emerson
55.
"I choose my friends for their good looks, my acquaintances for their good characters, and my enemies for their good intellects."
Oscar Wilde
56.
"I wish I had more friends, but people are such jerks. If you can just get most people to leave you alone, you're doing good. If you can find even one person you really like, you're lucky. And if that person can also stand you, you're really lucky."
Bill Watterson
57.
"There is no friend as loyal as a book."
Ernest Hemingway
58.
"If you have two friends in your lifetime, you're lucky. If you have one good friend, you're more than lucky."
S.E. Hinton
59.
"That's what people do who love you. They put their arms around you and love you when you're not so lovable."
Deb Caletti
60.
"I had no idea if I was doing the friend thing right or utterly screwing it up."
Gwenda Bond
61.
"It's an unwritten rule that best friends take care of each other, and best friends' husbands understand."
Liz Fenton
62.
"What do you most value in your friends? Their continued existence."
Christopher Hitchens
63.
"Anyone can become your best friend when you spend time together and share your feelings about life. However, not every best friend can free you from yourself. This is when you reconsider the word "best" and decide to expand your circle to include others."
Shannon L. Alder
64.
"Go ahead and complain. That's why you have a best friend forever after."
Shannon Hale
65.
"Do I not destroy my enemies when I make them my friends?"
Abraham Lincoln
66.
"True friends are like diamonds – bright, beautiful, valuable, and always in style."
Nicole Richie
True friends quotes
67.
"Many people will walk in and out of your life, but only true friends will leave footprints in your heart"
Eleanor Roosevelt
68.
"True friends are always together in spirit."
L.M. Montgomery
69.
"An acquaintance merely enjoys your company, a fair-weather companion flatters when all is well, a true friend has your best interests at heart and the pluck to tell you what you need to hear."
E.A. Bucchianeri
70.
"Close friends are truly life's treasures. Sometimes they know us better than we know ourselves. With gentle honesty, they are there to guide and support us, to share our laughter and our tears. Their presence reminds us that we are never really alone."
Vincent van Gogh
71.
"Your job won't take care of you when you'll be sailing through loneliness or going through a tragedy in life. Your friends will. Make good friends and stay in touch."
Chanda Kaushik
72.
"Two people who are true friends are like two bodies with one soul."
Chaim Potok
73.
"The friend who can be silent with us in a moment of despair or confusion, who can stay with us in an hour of grief and bereavement, who can tolerate not knowing, not curing, not healing and face with us the reality of our powerlessness, that is a friend who cares."
Henri Nouwen
74.
"Everyone wants to ride with you in the limo, but what you want is someone who will take the bus with you when the limo breaks down."
Oprah Winfrey
75.
"People will walk in and walk out of your life, but the one whose footstep made a long lasting impression is the one you should never allow to walk out."
Michael Bassey Johnson
76.
"Two things you will never have to chase: True friends and true love."
Mandy Hale
77.
"Your truest friends are the ones who will stand by you in your darkest moments – because they're willing to brave the shadows with you – and in your greatest moments – because they're not afraid to let you shine."
Nicole Yatsonsky
78.
"Life's a battlefield, and we remain loyal to those who fight for us; those who'd die for us."
Crystal Woods
79.
"[Your best friends will] love you anyway. You can fight, but even when you're mad at them, you know they're not going to stop being your friend."
Jennifer Niven
80.
"Because with true friends, no one is keeping score. But it still feels good to repay them – even in the tiniest increments."
Emery Lord
81.
"Sometimes a friend is most important, for friends are always there to laugh, cry, travel, see, hide, and feel with the other person. They will always be there. That is the measure of a true person: being a friend. It's so much more than you think."
Sophia Braun
82.
"A best friend is someone who, when they don't understand, they still understand."
Nancy Werlin
83.
"What you mean to me is something out of the ordinary, cause even a whole of a dictionary won't be able to describe it!"
Andy Flynn
84.
"Real friends were the kind where you pick up where you'd left off, whether it be a week since you'd seen each other or two years."
Jojo Moyes
85.
"I don't care about whose DNA has recombined with whose. When everything goes to hell, the people who stand by you without flinching – they are your family."
Jim Butcher
Friend quotes
86.
"Friends are part of the glue that holds life and faith together. Powerful stuff."
Jon Katz
87.
"A friend with an understanding heart is worth no less than a brother"
Homer
88.
"A friend may be nature's most magnificent creation."
Ralph Waldo Emerson
89.
"The shifts of fortune test the reliability of friends."
Marcus Tullius Cicero
90.
"It's the person that calls you up because they're eating at 'our favorite spot,' and it made them think of you and miss being there with you. That's a friend, to me."
Crystal Woods
91.
"Never explain – your friends do not need it and your enemies will not believe you anyway."
Elbert Hubbard
92.
"Don't walk in front of me… I may not follow
Don't walk behind me… I may not lead
Walk beside me… just be my friend"
Albert Camus
93.
"A good friend keeps your secrets for you. A best friend helps you keep your own secrets."
Lauren Oliver
94.
"A friend is a person with whom I may be sincere. Before him, I may think aloud."
Ralph Waldo Emerson
95.
"A friend is one to whom one may pour out the contents of one's heart, chaff and grain together, knowing that gentle hands will take and sift it, keep what is worth keeping, and with a breath of kindness, blow the rest away."
George Eliot
96.
"Saying you're friends is easy. Being friends is not."
David Levithan
97.
"Without friends, no one would want to live, even if he had all other goods."
Aristotle
98.
"The most valuable gift you can receive is an honest friend."
Stephen Richards
99.
"Good friends, good books, and a sleepy conscience: this is the ideal life."
Mark Twain
100.
"Books are the quietest and most constant of friends; they are the most accessible and wisest of counselors, and the most patient of teachers."
Charles W. Eliot
101.
"The ornament of a house is the friends who frequent it."
Ralph Waldo Emerson
102.
"If we would build on a sure foundation in friendship, we must love our friends for their sakes rather than for our own."
Charlotte Brontë
103.
"The only way to have a friend is to be one."
Ralph Waldo Emerson
104.
"If you can sit in silence with a person for half an hour and yet be entirely comfortable, you and that person can be friends. If you cannot, friends you'll never be and you need not waste time in trying."
L.M. Montgomery
105.
"I love the friends I have gathered together on this thin raft…"
Jim Morrison
106.
"Go oft to the house of thy friend, for weeds choke the unused path."
Ralph Waldo Emerson
107.
"Friends ask you questions; enemies question you."
Criss Jami
108.
"If you go out looking for friends, you're going to find they are very scarce. If you go out to be a friend, you'll find them everywhere."
Zig Ziglar
109.
"You can always tell a real friend: when you've made a fool of yourself he doesn't feel you've done a permanent job."
Laurence J. Peter
110.
"It takes a great deal of bravery to stand up to our enemies, but just as much to stand up to our friends."
J.K. Rowling
111.
"Friends don't leave you alone in the woods. Friends are the ones who come and take you out."
Sarah Dessen
112.
"What if all everybody needed in the world was to be sure of one friend? What if you were the one, and you refused to say those simple words?"
Richard Russo
113.
"When twilight drops her curtain down and pins it with a star remember that you have a friend though she may wander far."
L.M. Montgomery
114.
"The only reward of virtue is virtue; the only way to have a friend is to be one."
Ralph Waldo Emerson
115.
"Wherever it is you may be, it is your friends who make your world."
Chris Bradford
116.
"You can make more friends in two months by becoming interested in other people than you can in two years by trying to get other people interested in you."
Dale Carnegie
117.
"I awoke this morning with devout thanksgiving for my friends, the old and the new."
Ralph Waldo Emerson
118.
"Real friends are the ones you can count on no matter what. The ones who go into the forest to find you and bring you home. And real friends never have to tell you that they're your friends."
Morgan Matson
Fake friends quotes
119.
"Misfortune shows those who are not really friends."
Aristotle
120.
"You're going to come across people in your life who will say all the right words at all the right times. But in the end, it's always their actions you should judge them by. It's actions, not words, that matter."
Nicholas Sparks
121.
"If you want to find out who your real friends are, sink the ship. The first ones to jump aren't your friends."
Marilyn Manson
122.
"They let you down, you let them down, then they're your best friend, until next time."
Gemma Malley
123.
"Crocodiles are easy. They try to kill and eat you. People are harder. Sometimes they pretend to be your friend first."
Steve Irwin
124.
"A doubtful friend is worse than a certain enemy. Let a man be one thing or the other, and we then know how to meet him."
Aesop
125.
"It is more shameful to distrust our friends than to be deceived by them."
Confucius
126.
"I despise the rituals of fake friendship. I wish we could just claw each other's eyes out and call it a day; instead, we put on huge radiant smiles and spout compliments until our teeth hurt from the saccharine sweetness of it all."
Jody Gehrman
127.
"We are some people's friends only when they are with us."
Mokokoma Mokhonoana
128.
"False friends only appear at difficult times, with their sad, supportive faces, when, in fact, our suffering is serving to console them for their miserable lives."
Paulo Coelho
129.
"I don't suppose you have many friends. Neither do I. I don't trust people who say they have a lot of friends. It's a sure sign that they don't really know anyone."
Carlos Ruiz Zafón
130.
"Always sleep with one eye open. Never take anything for granted. Your best friends might just be your enemies."
Sara Shepard
131.
"Nobody likes being alone that much. I don't go out of my way to make friends, that's all. It just leads to disappointment. "
Haruki Murakami
More fake friends quotes
Quotes about losing friends
132.
"Life is a bus ride, with only so many seats. It took me a long time to comprehend that sometimes people had to leave my life, to make room for the better ones, but once I understood that it became easier to let go, and I was surprised at just how quickly new, interesting people somehow found their way onto my bus."
Dodie Clark
133.
"It doesn't take but a few words to turn your best friend into your worst enemy."
Marlan Rico Lee
134.
"You will evolve past certain people. Let yourself."
Mandy Hale
135.
"One of life's challenging realizations is that sometimes you outgrow your friends."
Steve Maraboli
136.
"False friends are like our shadow, keeping close to us while we walk in the sunshine, but leaving us the instant we cross into the shade."
Christian Nestell Bovee
137.
"Understand that friends come and go, but with a precious few you should hold on."
Mary Schmich
138.
"Sometimes your dearest friend whom you reveal most of your secrets to becomes so deadly and unfriendly without knowing that they were not really your friend."
Michael Bassey Johnson
139.
"It is far better to be alone, than to be in bad company."
George Washington
140.
"It is easier to forgive an enemy than to forgive a friend."
William Blake
141.
"Friendship is like a glass ornament, once it is broken, it can rarely be put back together in exactly the same way."
Charles Kingsley
142.
"Friendship is delicate as a glass, once broken it can be fixed but there will always be cracks."
Waqar Ahmed
143.
"Parting with friends is a sadness. A place is only a place."
Frank Herbert
144.
"Some say that time changes. Best friends can become strangers."
Good Charlotte
145.
"It's hard to tell who has your back, from who has it long enough just to stab you in it'."
Nicole Richie
146.
"Two persons cannot long be friends if they cannot forgive each other's little failings."
Jean De La Bruyere
147.
"While we are mourning the loss of our friend, others are rejoicing to meet him behind the veil."
John Taylor
148.
"One of the difficult things about growing older is that you start losing so many friends. On the other hand, the older you get, the less time you have to wait until you see them again."
Ron Brackin
149.
"The problem with having friends was that you might lose them. Or they might get hurt."
Gwenda Bond
150.
"Even though friends say they are interested in your life, they never really want to talk about you as much as you want them to. (68)"
Charise Mericle Harper
I hope you enjoyed this collection of best friend quotes. What is your favorite quote about friendship?
Stay victorious!