When you're spending time with the one you love most, time seems to fly. Before you even notice, another fulfilling and happy year at the side with your significant other has passed. Time often goes by so fast that you almost forget to pause a moment to cherish all the wonderful moments you've spent with your soulmate. To avoid this from happening, it can be quite helpful to regularly celebrate the continuation of your beautiful relationship. One such opportunity to do exactly that is your anniversary day. It is a wonderful day that encourages is you to reflect on the truly unique relationship the two of you have with each other. No matter if you're celebrating the day you got together or perhaps even the day you gave each other the wedding promises, your anniversary day is a great opportunity to rejoice in your relationship. At this very special day, the both of you can celebrate the continuation of your boundless love for each other. As such, your anniversary day allows you to review your commitment to each other. However, coming up with beautiful words that adequately describe your intense feelings for each other can be quite difficult. For this reason, we've created a neat selection of truly wonderful and remarkable anniversary quotes. Enjoy!
Coming up with a unique idea to celebrate your anniversary is a great way to show your significant other how much they mean to you.
"I love you without knowing how, or when, or from where. I love you simply, without problems or pride: I love you in this way because I do not know any other way of loving but this, in which there is no I or you, so intimate that your hand upon my chest is my hand, so intimate that when I fall asleep your eyes close."
Pablo Neruda
At the same time, it can be quite a struggle to come up with the right words to express how much your partner means to you. Luckily, there are numerous brilliant anniversary quotes handcrafted by some of the most eloquent and creative writers.
These beautiful statements inspire you to articulately express your feelings. Even more so, these quotes will remind you of all the beautiful moments the two of you spent together.
62 Anniversary Quotes to Celebrate Your Love
What is so beautiful about anniversary quotes is that they stem from authors who knew exactly how important it is to celebrate the relationship with their significant others. As such, these individuals have succeeded at beautifully expressing their deep care and affection for their partners. Let's have a look at their inspiring thoughts.
Here are these beautiful anniversary quotes:
1.
"Maybe we've lived a thousand lives before this one and in each of them, we've found each other… I know I've spent each life before this one searching for you. Not someone like you but you, for your soul and mine must always come together."
Nicholas Sparks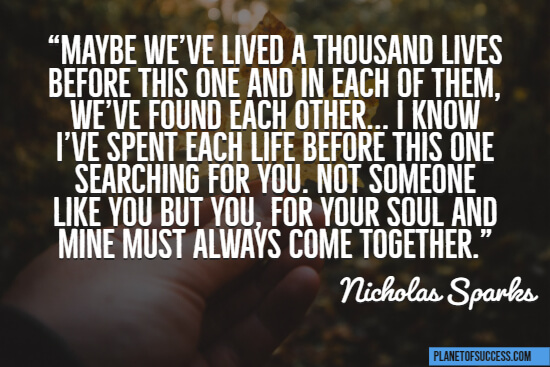 2.
"I will spend an eternity loving you, caring for you, respecting you, showing you every day that I hold you as high as the stars."
Steve Maraboli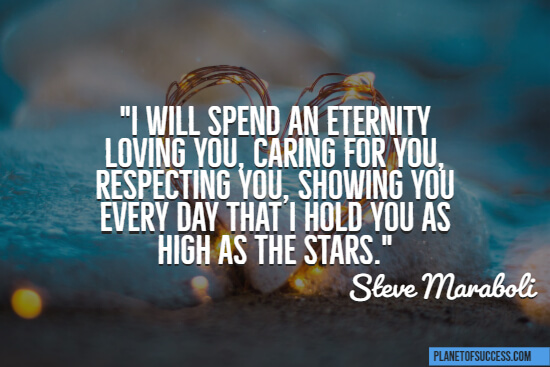 3.
"I love you, in my mind where my thoughts reside, in my heart where my emotions live, and in my soul where my dreams are born. I love you."
Dee Henderson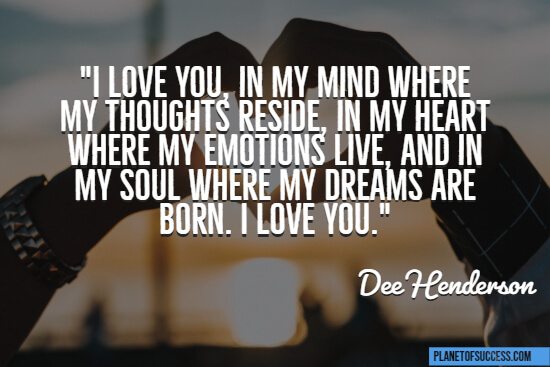 4.
"Forever is a measure of time used by people who share an ordinary love. Our extraordinary love is immeasurable … for us, forever just won't do."
Steve Maraboli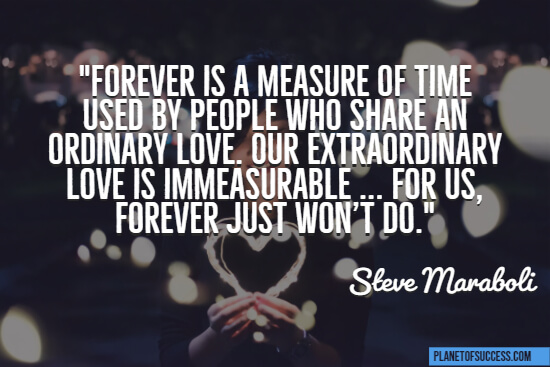 5.
"This is going to sound crazy, but… from the moment I first set eyes on you I haven't been able to stop thinking about you."
Leigh Fallon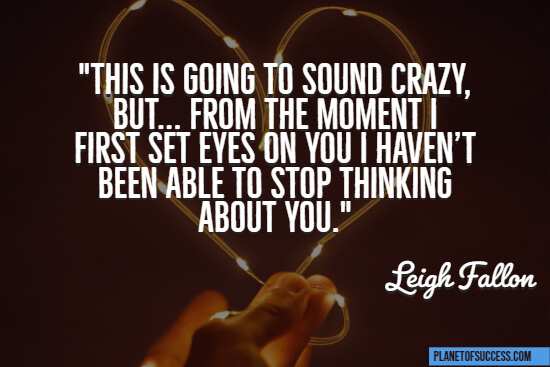 6.
"I could not tell you if I loved you the first moment I saw you, or if it was the second or third or fourth. But I remember the first moment I looked at you walking toward me and realized that somehow the rest of the world seemed to vanish when I was with you."
Cassandra Clare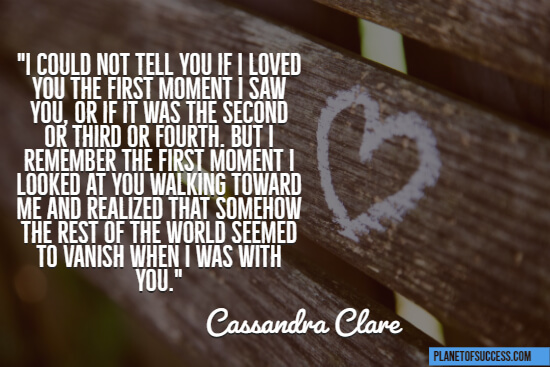 7.
"I love you not only for what you are, but for what I am when I am with you. I love you not only for what you have made of yourself, but for what you are making of me. I love you for the part of me that you bring out."
Roy Croft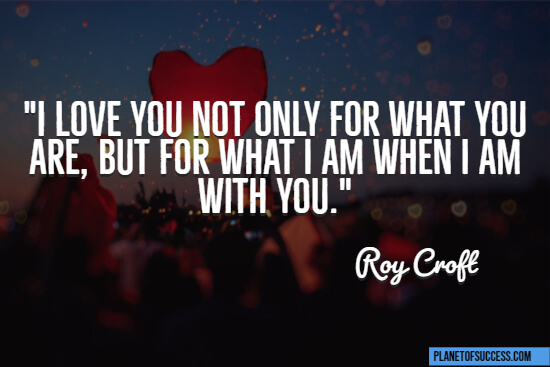 8.
"Love you! Girl, you're in the very core of my heart. I hold you there like a jewel. Didn't I promise you I'd never tell you a lie? Love you! I love you with all there is of me to love. Heart, soul, brain. Every fiber of body and spirit thrilling to the sweetness of you. There's nobody in the world for me but you."
L.M. Montgomery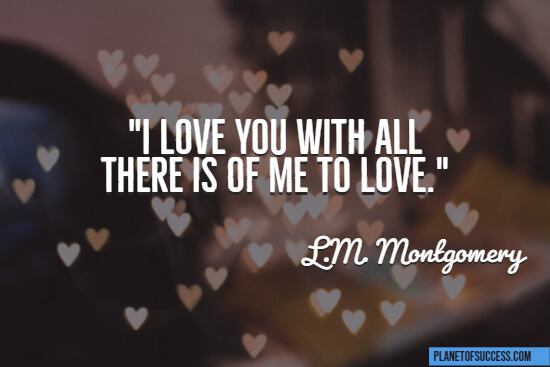 9.
"Falling in love is very real, but I used to shake my head when people talked about soul mates, poor deluded individuals grasping at some supernatural ideal not intended for mortals but sounded pretty in a poetry book. Then, we met, and everything changed, the cynic has become the converted, the skeptic, an ardent zealot."
E.A. Bucchianeri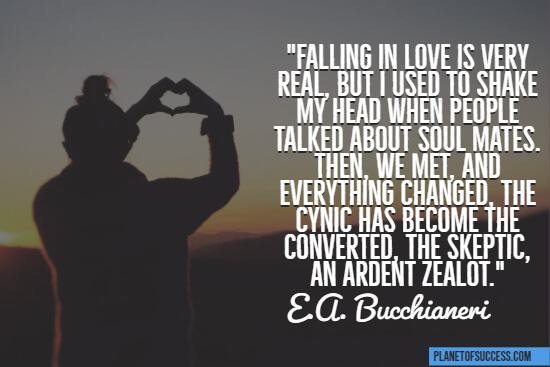 10.
"I wish there was a word more than 'love' itself to convey what I feel for you."
Faraaz Kazi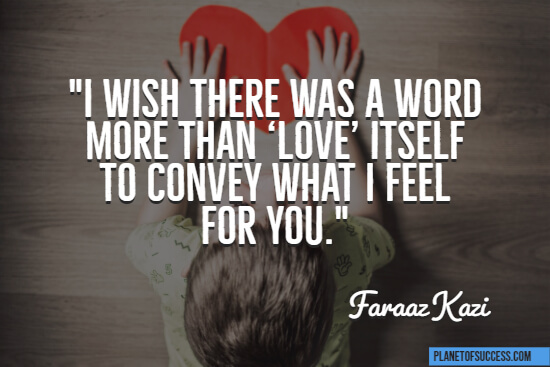 11.
"For it was not into my ear you whispered, but into my heart. It was not my lips you kissed, but my soul."
Judy Garland
12.
"My love, you are always on my mind. I love you so much."
Lailah Gifty Akita
13.
"It is an absolute human certainty that no one can know his own beauty or perceive a sense of his own worth until it has been reflected back to him in the mirror of another loving, caring human being."
John Joseph Powell
14.
"Sometimes, reaching out and taking someone's hand is the beginning of a journey."
Vera Nazarian
15.
"And as ridiculous as it may sound, sometimes all any of us needs in life is for someone to hold our hand and walk next to us."
James Frey
16.
"Your voice so sweet and tender whispers lovely lullabies.
Making me swoon in awe as we dream under the night skies.
Leaving me nostalgic until we both say our goodbyes.
Kissing away our dreams as we wipe the tears from our eyes.
Wishing upon each star until the sunrise."
Raneem Kayyali
17.
"I felt I was dreaming and thinking and feeling with you. I dreamed what you dreamed, wanted what you wanted – and then I realized that truly I just wanted you."
Cassandra Clare
18.
"When love strikes someone like lightning, so powerful and intense it can't be denied. It's beautiful and messy, cracking a chest open and spilling their soul out for the world to see. It turns a person inside out, and there's no going back from it. Once the thunderbolt hits, your life is irrevocably changed."
J.M. Darhower
19.
"If I know what love is, it is because of you."
Herman Hesse
20.
"We've lost a lot of years, but you can't lose love. Not real love. It stays locked inside you, ready for whenever you are strong enough to find it again."
Martina Boone
21.
"Love holds the key to every heart."
Lailah Gifty Akita
22.
"As we grow older together, as we continue to change with age, there is one thing that will never change… I will always keep falling in love with you."
Karen Clodfelder
23.
"Our lips were for each other and our eyes were full of dreams. We knew nothing of travel and we knew nothing of loss."
Roman Payne
24.
"There is a natural magic in the feeling of love that has been nourished by Mother Nature through millions of years. It can make you reach the zenith of your true potential. It can awaken your mind towards your deepest powers, and make you endowed with tools of greatness that you can never access in an ordinary state of mind."
Abhijit Naskar
25.
"Marriage is not an event. Marriage is a journey. A journey that begins from the very day you hold hands of one another to walk together the rest of your journey. During the journey, you LAUGH together; CRY together; care for one another, pacify each other, and you create a new world for yourself. You walk together during all seasons. You share your JOY and you share your PAIN. You continue to walk together until time parts you away."
Sanjeev Himachali
26.
"Our eyes will know the heavens if our lips stay for each other."
Roman Payne
27.
"Your name is a golden bell hung in my heart. I would break my body to pieces to call you once by your name."
Peter S. Beagle
28.
"I think of you only twice a day – when I am alone and when I am with someone else."
Amit Kalantri
29.
"My nightmares are usually about losing you. I'm okay once I realize you're here."
Suzanne Collins
30.
"You pierce my soul. I am half agony, half hope… I have loved none but you."
Jane Austen
31.
"I love you the more in that I believe you had liked me for my own sake and for nothing else."
John Keats
32.
"And then, just at that moment, when I'm no longer sure if I'm dreaming or awake or walking some valley in between where everything you wish for comes true, I feel the flutter of your lips on mine."
Lauren Oliver
33.
"I want you for always… days, years, eternities."
Franz Schubert
34.
"Those monumental anniversary celebrations aren't what ultimately determine the actual direction of our marriage. Rather, it's the here and now. It's those daily decisions we make individually and together that influence how our relationship actually fares in the long run"
Ashleigh Slater
35.
"Love is like breathing. You can't live without it."
Imania Margria
36.
"You could hold me and I could hold you. And it would be so peaceful. Completely peaceful. Like the feeling of sleep, but awake in it together."
John Green
37.
"So it's not gonna be easy. It's going to be really hard; we're gonna have to work at this every day, but I want to do that because I want you. I want all of you, forever, everyday. You and me… everyday."
Nicholas Sparks
38.
"You looked at me then like you knew me, and I thought it really was Eden, and I couldn't take your eyes in because I was loving the hoof marks on your cheeks."
Toni Morrison
39.
"Every cell in my body was telling me that he was my happily ever after."
C.J. English
40.
"Over everything, I choose you"
Marissa Meyer
41.
"There is nothing more beautiful than a vulnerable heart in open hands."
Amanda Mosher
42.
"From the first day I met her, she was the only woman to me. Every day of that voyage I loved her more, and many a time since have I kneeled down in the darkness of the night watch and kissed the deck of that ship because I knew her dear feet had trod it. She was never engaged to me. She treated me as fairly as ever a woman treated a man."
Arthur Conan Doyle
43.
"Sweetheart, darling, dearest, it was funny to think that these endearments, which used to sound exceedingly sentimental in movies and books, now held great importance, simple but true verbal affirmations of how they felt for each other. They were words only the heart could hear and understand, words that could impart entire pentameter sonnets in their few, short syllables."
E.A. Bucchianeri
44.
"Grow old with me, the best is yet to be."
Robert Browning
45.
"I found myself falling madly, deeply, passionately, head-over-heels in love with my husband. I'd loved him as much as I thought I could love anybody before I'd married him, but in treating him like my own personal Superman, I discovered how much of a superhero he actually was. How giving he was. How generous. How kind, caring, and considerate. How passionate. How loving. How genuinely good."
Victoria Laurie
46.
"I know I would crumble if I lost you."
Shannon Hale
47.
"You have made me a complete person. You are everything to me. And I cannot think of living life without you. And I love you forever."
David Gest
48.
"The Lord had spoken to me, manifesting Himself in many ways; to me, angels had revealed themselves and I had not believed them. But when I saw you I was compelled to believe, because of the miracle that happened to me."
Mika Waltari
49.
"If you live to be a hundred, I want to live to be a hundred minus one day so I never have to live without you."
A. A. Milne
50.
"I meant it when I said I didn't believe in love at first sight. It takes time to really, truly fall for someone. Yet I believe in a moment. A moment when you glimpse the truth within someone, and they glimpse the truth within you. In that moment, you don't belong to yourself any longer, not completely. Part of you belongs to him; part of him belongs to you. After that, you can't take it back, no matter how much you want to, no matter how hard you try."
Claudia Gray
51.
"At that very first kiss of my life, I felt something melt inside me that hurt in an exquisite way. All my longings, all my dreams and sweet anguish, all the secrets that slept deep within my limbic brain came awake. I felt billions of Beach Boys playing their sweet melody inside my heart in perfect harmony with the universe."
Abhijit Naskar
52.
"You'll only know the answers once you love."
Kamand Kojouri
53.
"Truth to tell, the longer I live, the more I'm tempted to think that the only moderately worthwhile people in the world are you and I."
Pierre-Ambroise Choderlos de Laclos
54.
"I want you forever, not just for tonight."
Sylvain Reynard
55.
"You could hold me and I could hold you. And it would be so peaceful. Completely peaceful. Like the feeling of sleep, but awake in it together."
John Green
56.
"I suffered with you. I hurt with you. I bled with you -not only because we're bonded, but because the love I have for you."
Eric Northman
57.
"Love is not love which alters it when alteration finds or bends with the remover to remove: O no! It is an ever-fixed mark that looks on tempests and is never shaken; it is the star to every wandering bark whose worth's unknown, although his height be taken. Love's not Time's fool, though rosy lips and cheeks within his bending sickle's compass come: Love alters not with his brief hours and weeks, but bears it out, even to the edge of doom."
William Shakespeare
58.
"Each bump or challenge in our intimate connections offers us a perfect opportunity to deepen our level of intimacy while allowing us to grow and evolve both individually and together."
Tracie Sage
59.
"We talked about all the decades to come and how they would never be enough."
C.J. English
60.
"A relationship is about commitment, making quality time to spend with each other, keeping lines of communication open, being honest and loyal and respecting each other's differences."
Karon Waddell
61.
"However, you forgot our anniversary date but it does not matter because I know that you may have forgotten the date but you haven't forgotten my value in your life."
Shattered Girl
62.
"I love you – I am at rest with you – I have come home."
Dorothy L. Sayers
I hope you enjoyed this collection of inspiring anniversary quotes. How long have you been married to your significant other?
Stay victorious!